MEDITATE-ON-THE-GO
A smartwatch application with a companion mobile application to track & enable meditation anytime, anywhere. Smart application that learns your behavior, mood, time, physiological level, activity and lets you track all this data, suggests meditation, set reminder to meditate.
1. PROJECT DETAILS
Project Name: Meditate-on-the-Go

Project Type: Product Design

Project Theme: Well Being, Meditation, Self health tracker

Team: 1 - Personal Project

My Role: Everything in this project is done by me.

Skills: Need-finding, Challenge, Diary Study, Survey, Persona Narrative, Mental Model, Word Cloud, Ideation, Storyboards, Paper Prototypes, Prototypes Usab Test - think aloud studies, Flow chart, Conceptual System Design

Tools Used: Balsamiq for wire-framing.

Project Inspiration: Self Experience and a monk video.
2. CHALLENGE - PROBLEM DISCOVERY PHASE
Is this project made from scratch?
Yes.
What is it about?
As a child, I never understood meditation. Even after growing up, when stress in life increased, I tried meditation but it felt very difficult. I tried few meditation apps but nothing worked. Once I stumbled upon a monk video. I understood the core essence of meditation and found an opportunity to design a solution for millennials like me, who struggle with stress and find meditation difficult due to busy lifestyle.
Problem:
Everyone on this planet deals with stress in some way or the other. Even though, meditation is a proven technique to reduce stress it is not being used widely by millennial due to busy lifestyle which is filled with excessive distractions. There are many meditation mobile apps available but they are on the most distrustful device - mobile itself. Technology should be harnessed to enable meditation on the fly. I wanted to research and find out how valid were my assumptions. So I conducted user research and designed a solution for this problem.
What is the Goal / Hypothesis?
The goal is to first find out whether my assumptions are valid or not and next, create a design solution that enables meditation on the go, anytime, anywhere and the user can also learn his progress over time.
3. RESEARCH PHASE
3.1. DIARY STUDY
I decided to conduct research to find out how users meditate. What the users know and say might be different because mediation is quite personal. Therefore interviews won't be of much help in this case. Instead, I decided to conduct diary study to learn more about user behavior.
I conducted diary study with 5 people. I asked them to note down every key point of their day. This qualitative data was used to find the pain points. Recruited 5 participants, 2 on them were expert meditator using the app, 3 of them were novice. 1 expert and 1 novice were asked to do the diary study for 15 days. Rest of them were asked to do the study for 1 week. This is because I wanted to learn how a person's behavior and attitude changes over different duration of time. They were asked to note down every happy, sad, anxious and surprising event of the day. Also they were asked to note down the time and duration of their meditation exercises. I sent each participant multiple reminders during the day.
Each participant used Google docs to write down their data. At the end of the study, I spoke to each participant and went over their document in front of them. I asked them clarifying questions on why they wrote certain instances. I analyzed a huge bunch of qualitative data and I found some interesting patterns in the behavior while meditating as well as while doing normal work.
3.2. PERSONA
I created personas to model, summarize and communicate them based on my qualitative data from user research. They are related to my target group. The user personas are depicted as specific persons but they aren't real individuals. I should create three user personas who all maintain:
.– Demographics
– Occupation
– Keywords
– Background
– Challenges
– Goals
– Frustrations
– Technology
– Identifiers/Personality
3.3. MENTAL MODEL
Mental models depicts are Abdul and Kathy understands the world.I have shown the mental model of their daily activities. Mental models are how they simplify complexity, why they consider some things more relevant than others, and how they reason.
3.4. WORD CLOUD
I made these word cloud to get an understanding of which components are the most important and relevant to my design solutions.
4. DESIGN PHASE
4.1. IDEATION & STORYBOARDING
Following my research phase, I was keen to brainstorm solutions that were narrowed down by my research.
I worked on some initial concepts, developing high-level sketches of multiple solutions that iterated on.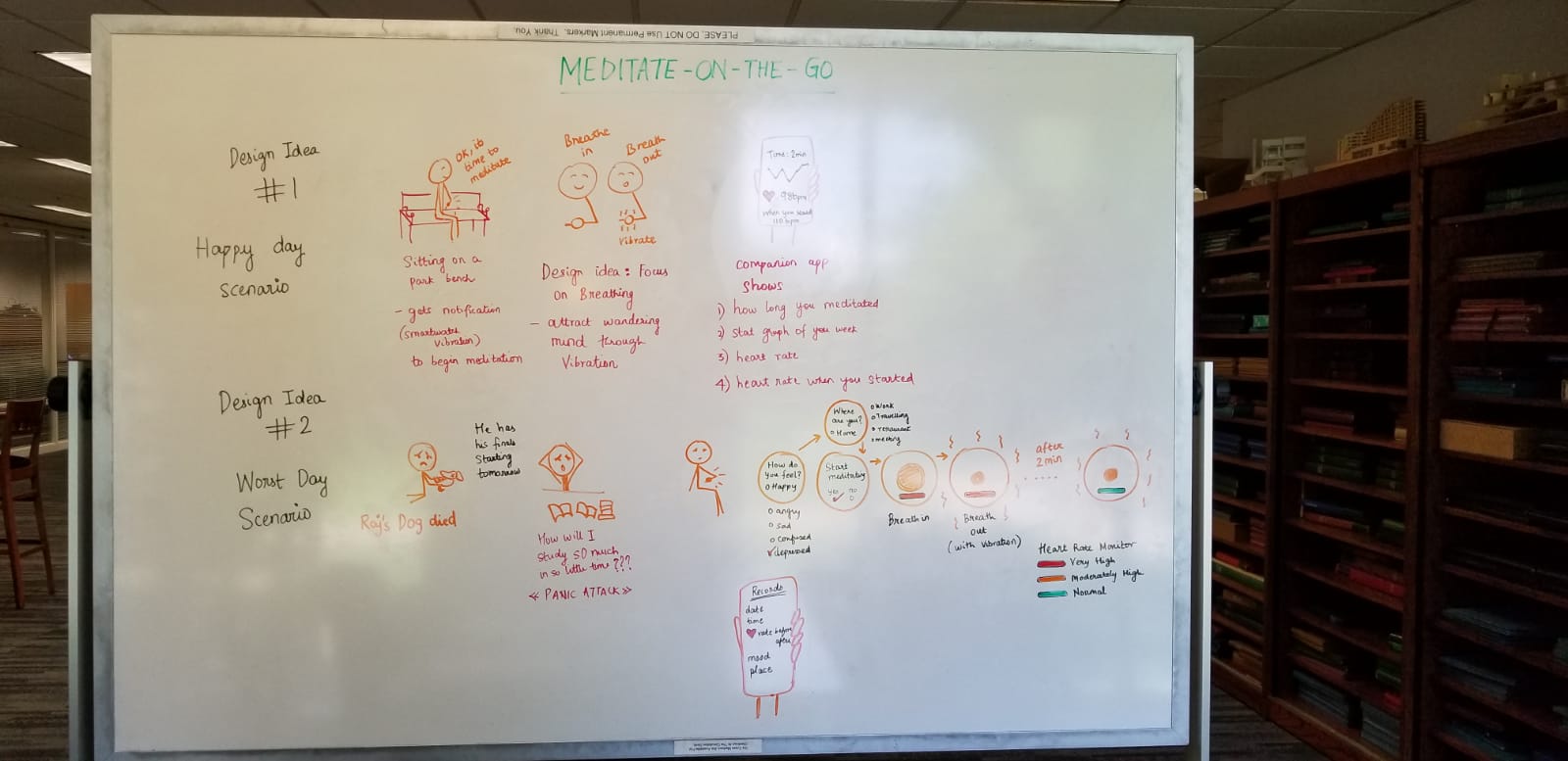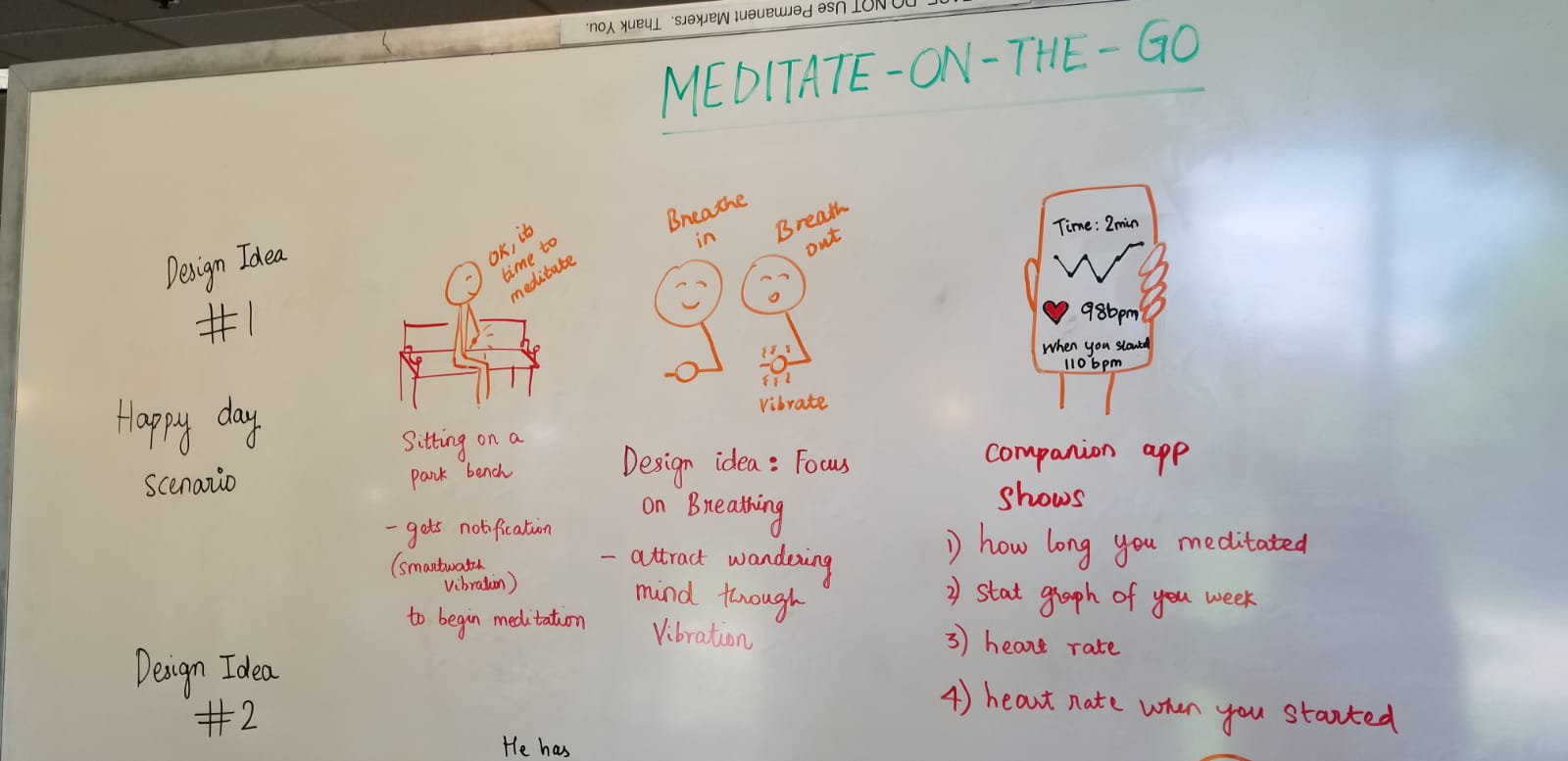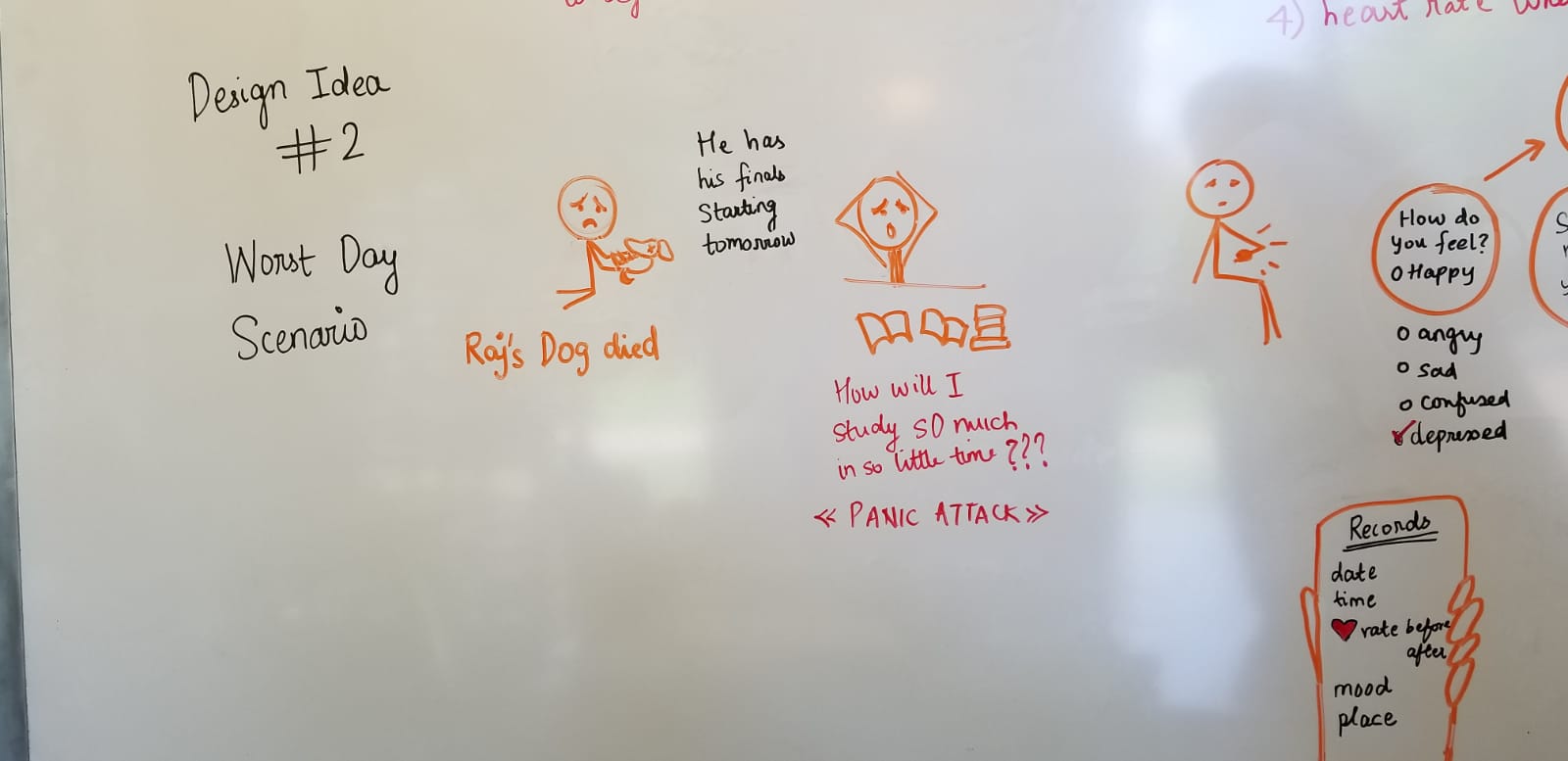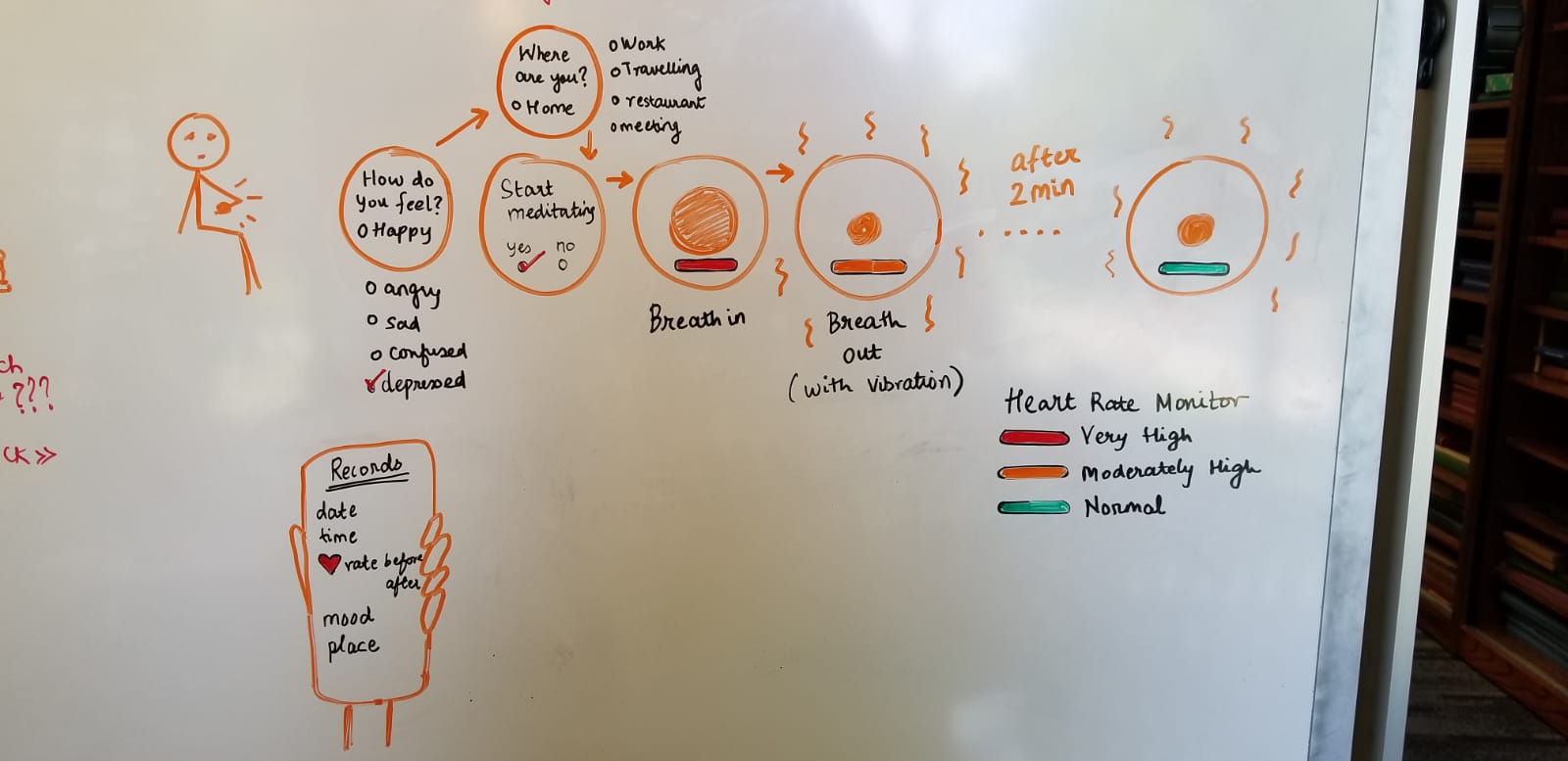 4.2. EMPATHY MAP
I created empathy map to get a closer look at my Kathy persona. I wanted to understand what are her feelings, what she sees, hear, say and do? These shaped my design ideas.
4.3 Paper Prototypes
Based on the ideation and empathy map, I created paper prototype of the smartwatch to test the interaction flow of the app.
4.4. FLOW CHART
Flow charts depicts the interaction design of each user interface of smartwatch and the app.
4.5. CONCEPTUAL SYSTEM DESIGN
I created high Conceptual design of the whole system. The rectangles are app screens and green bubbles are the functionalities on that screen.