TravelAR - A Travel Social Media Platform
Travel AR is a social networking mobile app tailored only for sharing traveling experiences with your friends and other people. It also enables you to plan and have a rich user experience before, during and after your travel. It uses augmented reality (AR) technology to have a better UX during your travel.
1. PROJECT DETAILS
Project Name: TravelAR - A Travel Social Media Platform
Project Type: UX Design
Project Theme: Social Media, Travel
Team: 1 - Personal Project
My Role: Everything in this project is done by me.
Skills:
Tools Used:
Project Inspiration: My friend's traveling experience.
Deliverables: For each step in the design process, I have explained my thoughts and decisions in 3 parts

AIM - Why did I decide to work on a particular research/design deliverable?
APPROACH - How did I achieve it?
LESSONS LEARNT - What did I learn from the process?
2. CHALLENGE - PROBLEM DISCOVERY PHASE
Is this project made from scratch?
Yes :)
What is it about?
I was in search of an interesting problem to solve for my personal UX project. So I kept my eyes and ears open all the time to catch any problem that would fall on my radar. I identified this problem when I was talking to a friend. She told that when she went to San Diego for the first time, she depended on his friend's instagram pictures to see what places he had visited when he came to San Diego. This problem instantly caught my attention because even after having huge amount of information online, my friend wanted to have a traveling experience similar to that of his friend's. This meant there is somewhere a need for travel information presentation which involves our own social network.
What were the problems identified?
Difficulty in finding current information of places, unable to figure out who have been to a place from our own social network and trusting the online reviews were some problems my friend told me. Based on the conversation I had with my friend, I decided to research this problem area with the hypothesis "The problems faced by my friend are also faced by many other travelers." and finally design a solution to solve it.
What is the Goal?
The goal of this project is to research this problem area, identify user pain points and design solution using user centered design process.
3. RESEARCH PHASE
3.1. ON-SITE OBSERVATIONS
On-site observations are a rich source of user behavior. I conducted 9 on-site observations in multiple locations in two different countries.
I recently had two trip - one to Montreal, Canada and another to Corfu, Greece. So I decided, keenly observe other people (locals and tourists) how they found information of places, how they planned their day and other things that I'm unaware of. I kept a small notebook with me and noted down tourist's behavior, the intensity and dependence on mobile apps, their frustrations and their ways of getting around those frustrations. Most of the time, I was a distant quite observer. But sometimes, I talked to the person I was observing with any clarifying questions I had regarding their behavior.
Few noteworthy observations:
Montreal, Canada was a French speaking city. All the sign boards and instructions were in french. So I noticed people using Google Translate a lot. For going from one place to another I noticed people using City Mapper app that showed them directions as well as bus/train timings.
In Greece, I noticed that huge amount of planning and searching was required to plan a day trip using cruise or boat rides. People heavily relied on the locals, hotel staff, shopkeepers to get information on most popular beaches. When I asked a few tourist "How did you find out about this beach?", they told me that their friend recommended this place who had been there last month.
For searching good places to eat, I observe 3 major kinds of people. One, who don't care where to eat. They just enter any restaurant. Second, who prefers to do little research - by maybe asking a local or going to a famous well know place and third, the ones who do not enter any place without extensive research and reading reviews online.
3.2. IN-DEPTH INTERVIEWS
With so many on-site observations, I felt the urge to talk to frequent travelers and understand their mindset. The main goal of interviewing was to get answers on specific questions I developed after doing on-site observations.
I interviewed 5 frequent travelers. 3 interviews were taken on phone call, 2 in person. Average time spent during the interview was 1.5 hours. I had prepared a list of questions in advance. The interview was formal. First, I briefed the interviewee regarding the goal of the interview and what was expected out of them. I had a notebook to quickly scribble notes for each question. Last year I learnt the skill of active listening & I used it during all the interviews.
The qualitative data gathered from in-depth interviews was golden as well as in abundance. The interviewees not only answered my questions but also shared their traveling experience and problems that they faced. One of the interviewee also described me his dream travel application he wished he had. I gathered valuable information, pain points, ideas and knowledge in this area.
Active Listening works like a charm. I experienced it.
3.3. ANALYSIS OF GATHERED DATA
It was important to quantify, find patterns and pain points from the qualitative data gathered from on-site observations and in-depth interviews. The main goal is to extracts goals, pain points and personas. Pain points then can be translated into goals which will later become the features of the TravelAR app.
Phase 1: I used experience mapping to analyze the gathered data. Experience mapping is affinity diagramming on steroids. I wrote all the direct quotes, user goals, user action, pain points, steps they took to solve a problem and problems on yellow sticky notes. Then I grouped them into tasks and named each group with green sticky notes. I then made a timeline and organized those groups based on when they occurred and labelled each set of groups based on it. In the end I labelled all the pain points with red labels.
Phase 2: I started converting each pain point into goals. Goals, that needed to be worked on.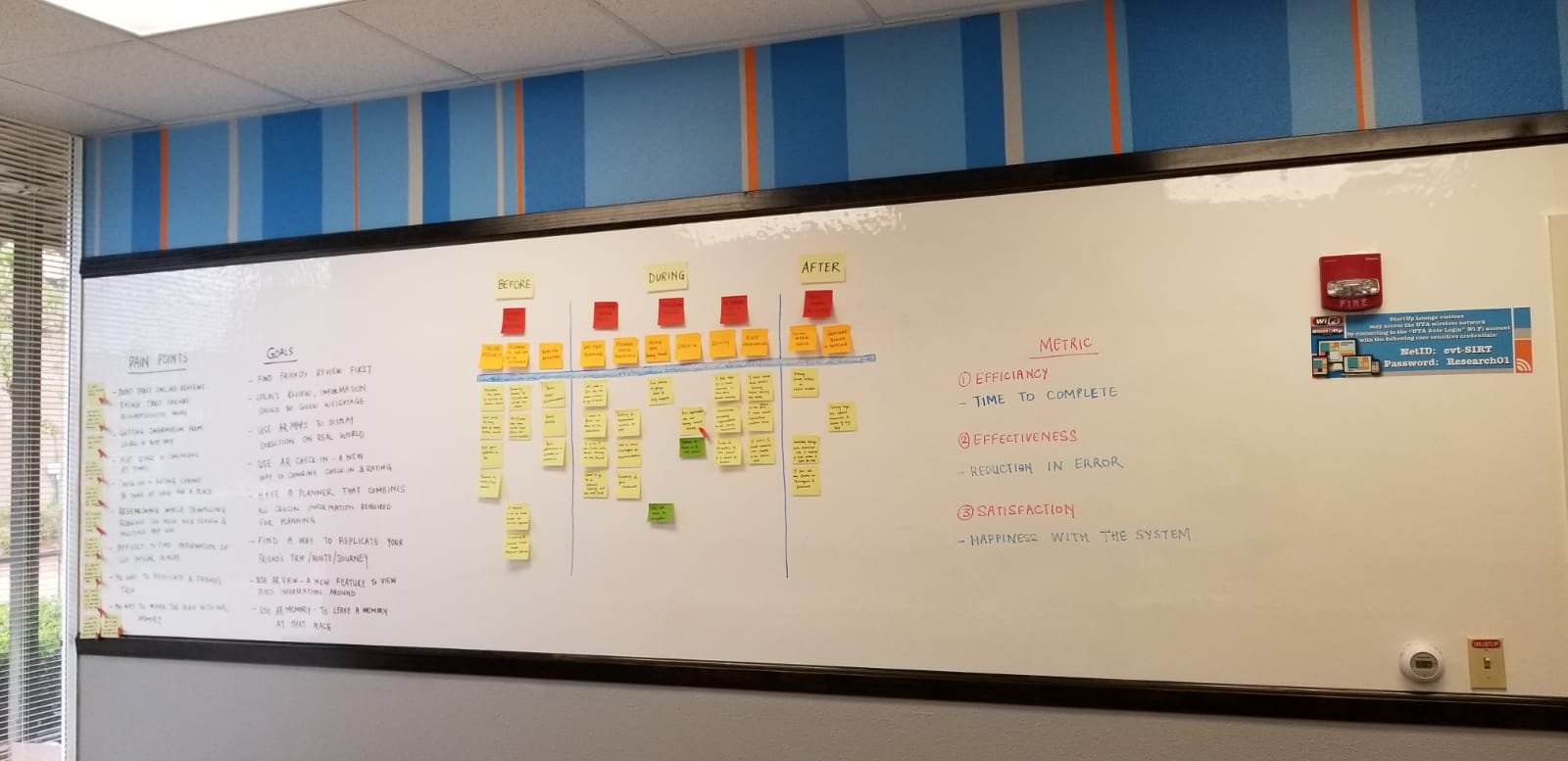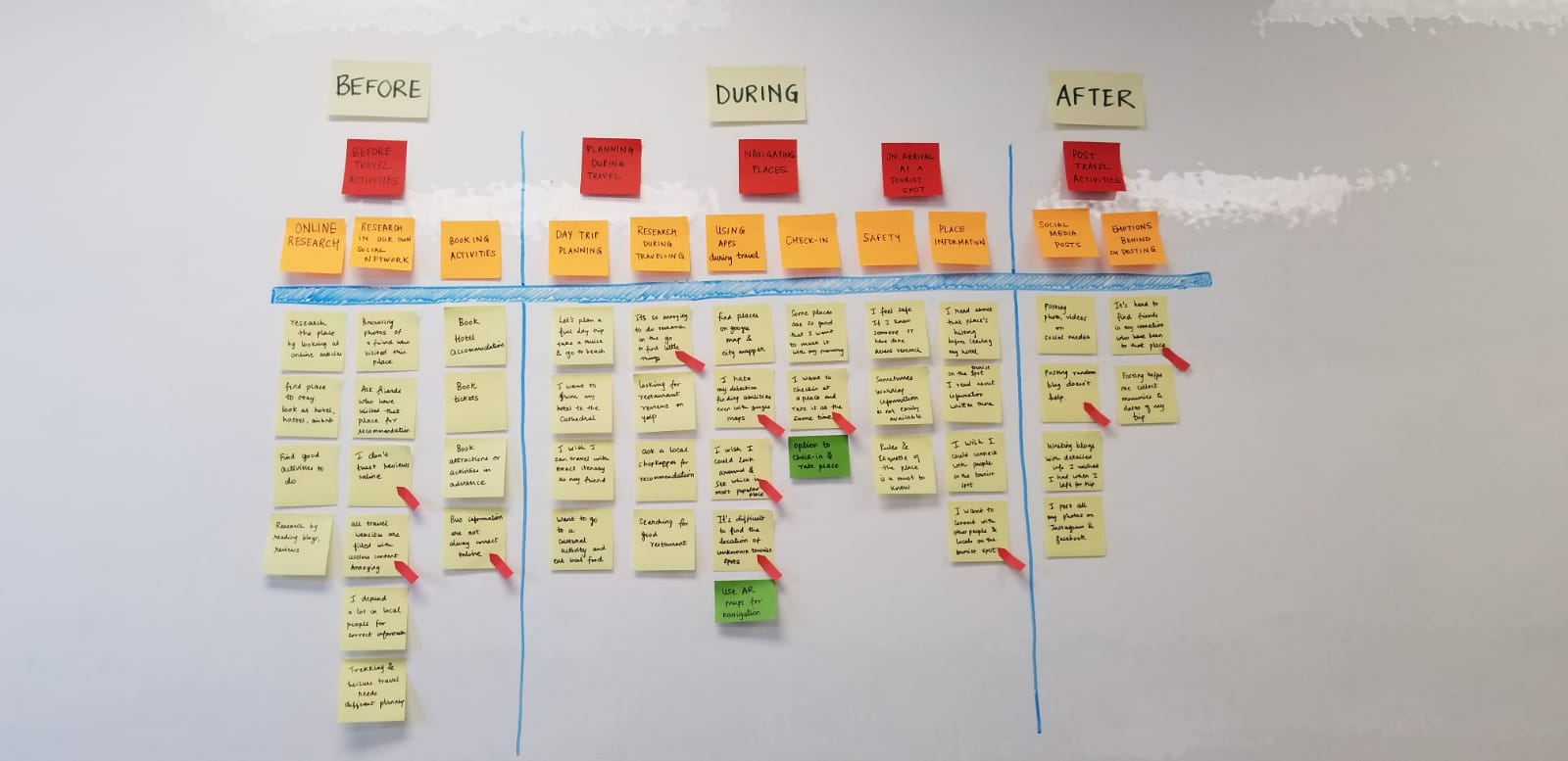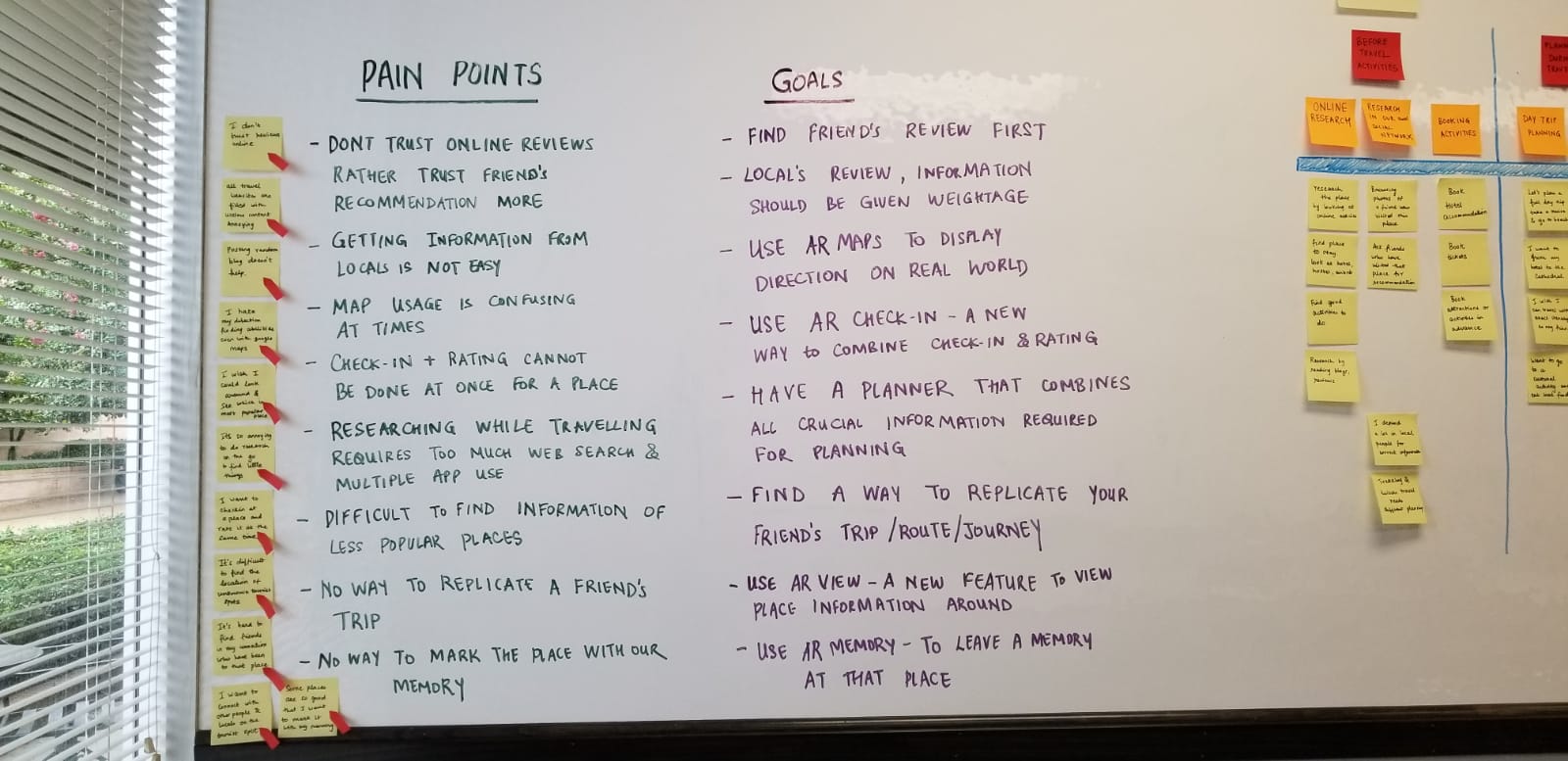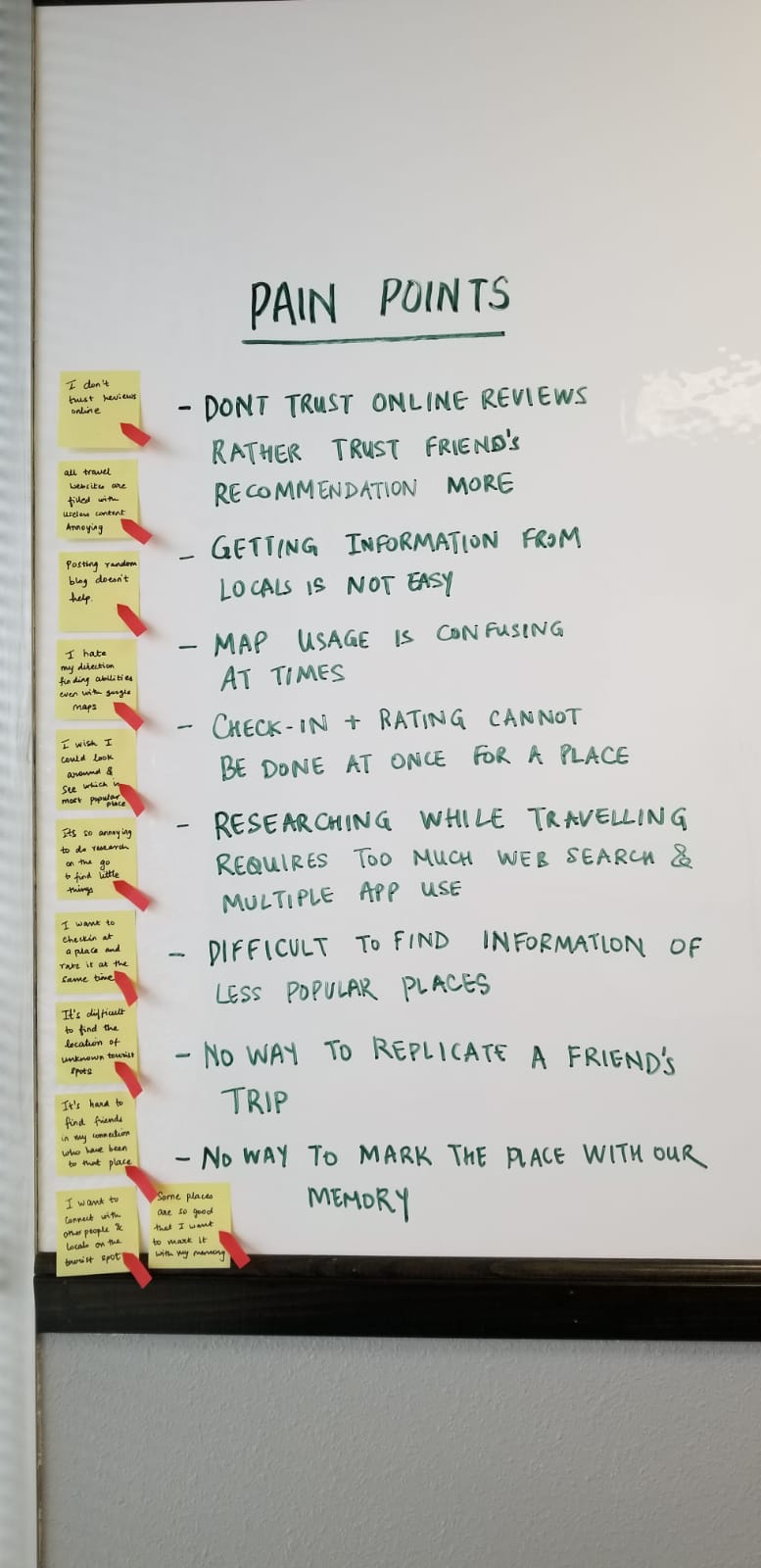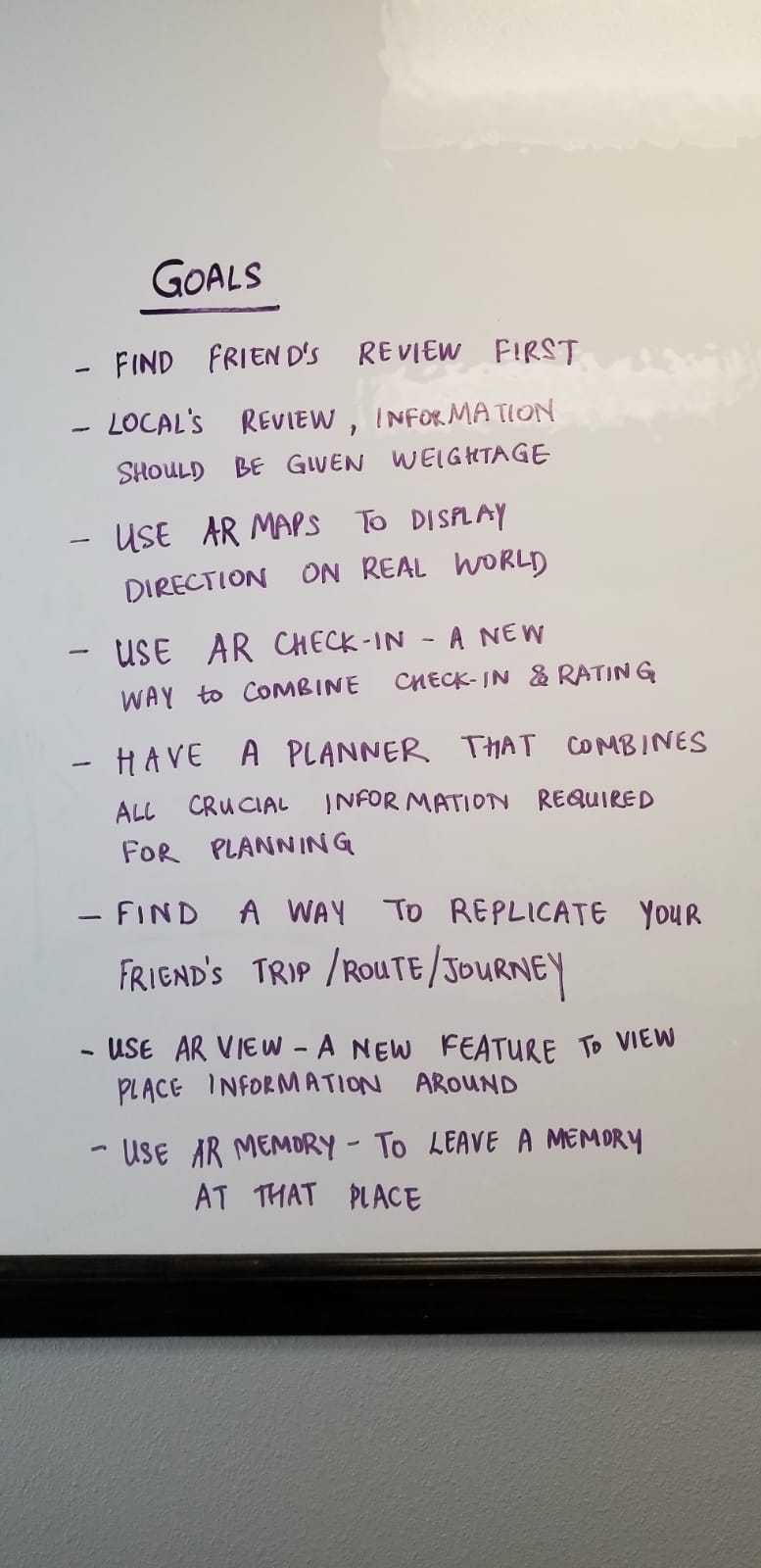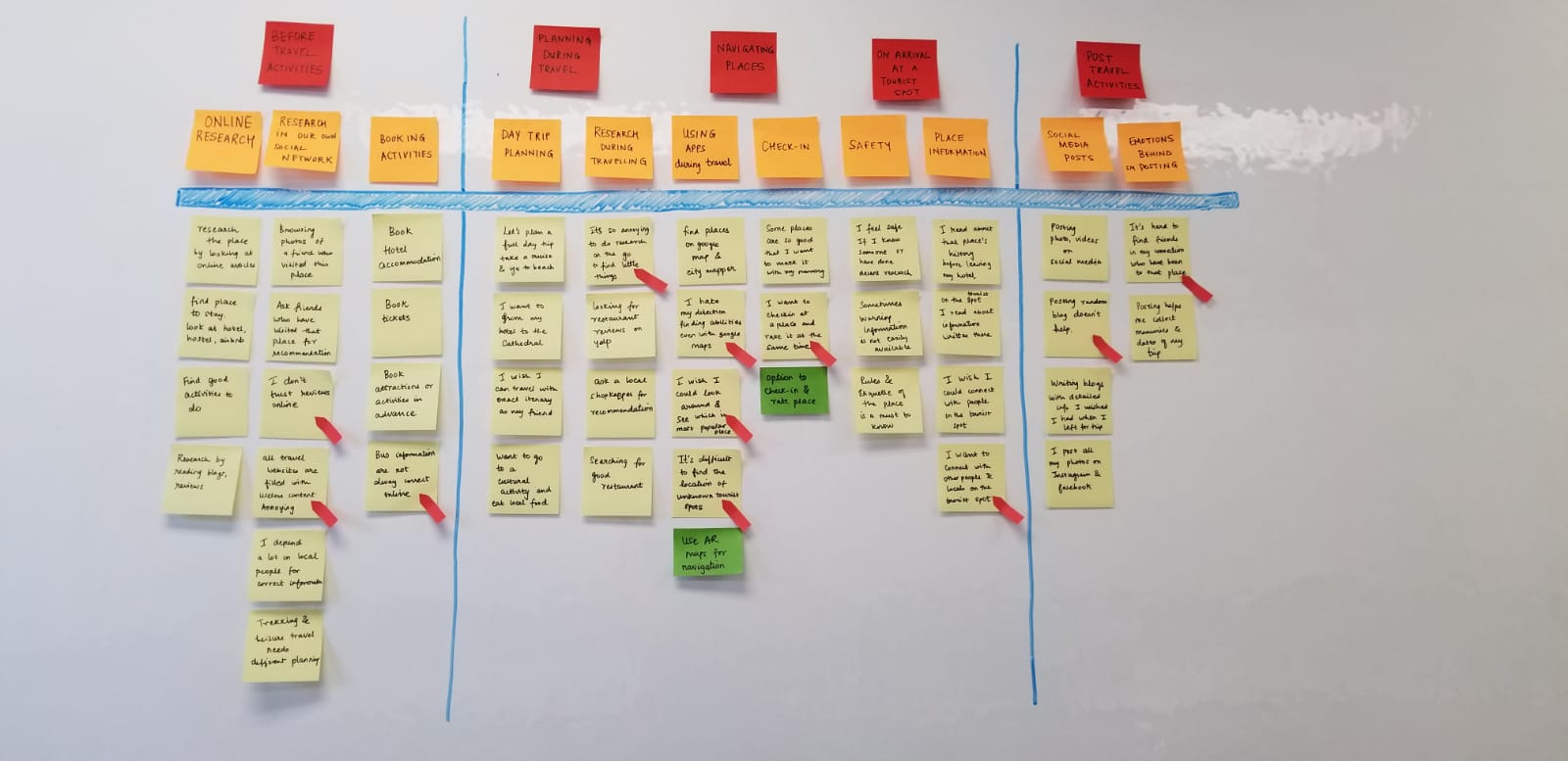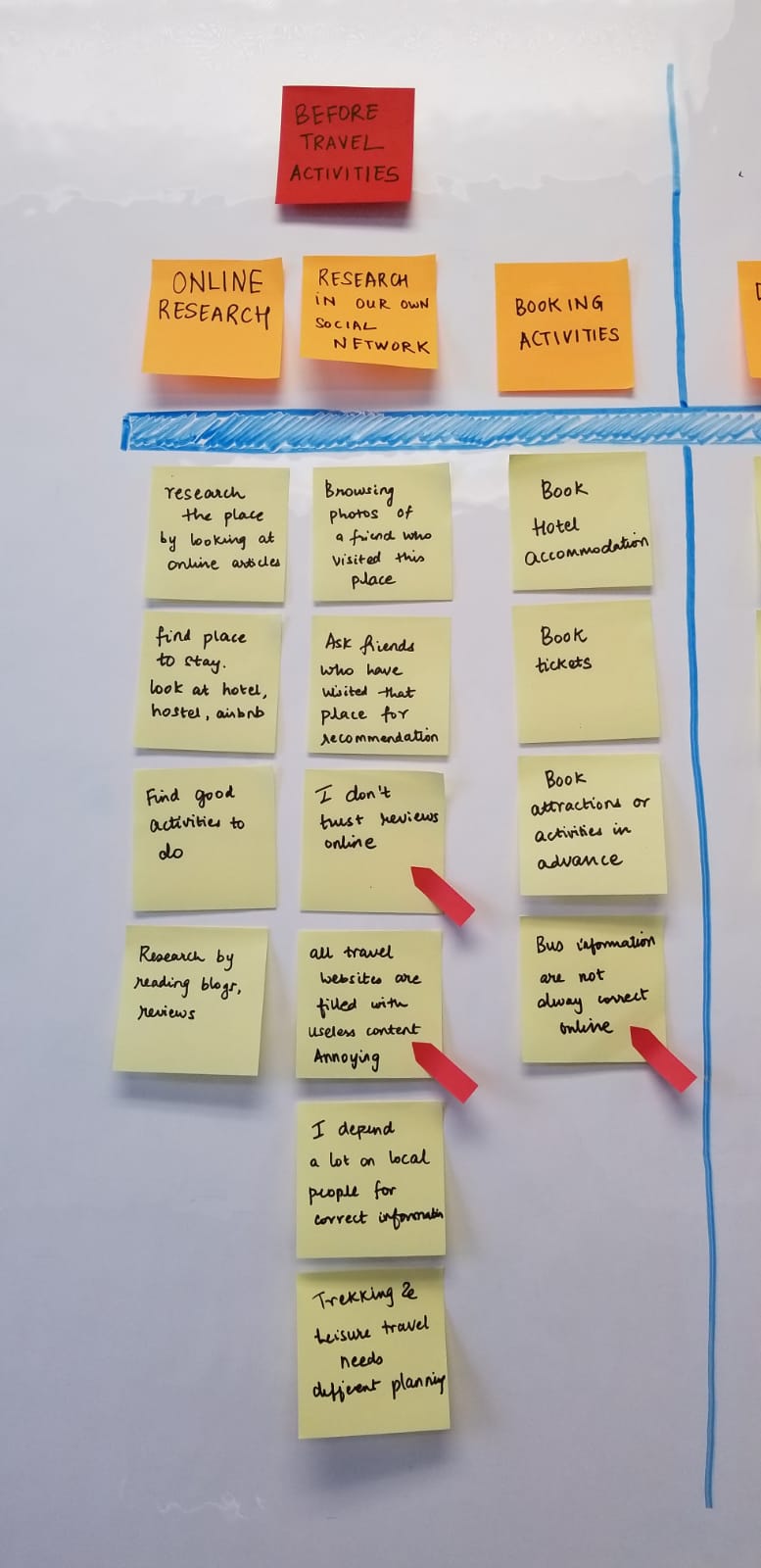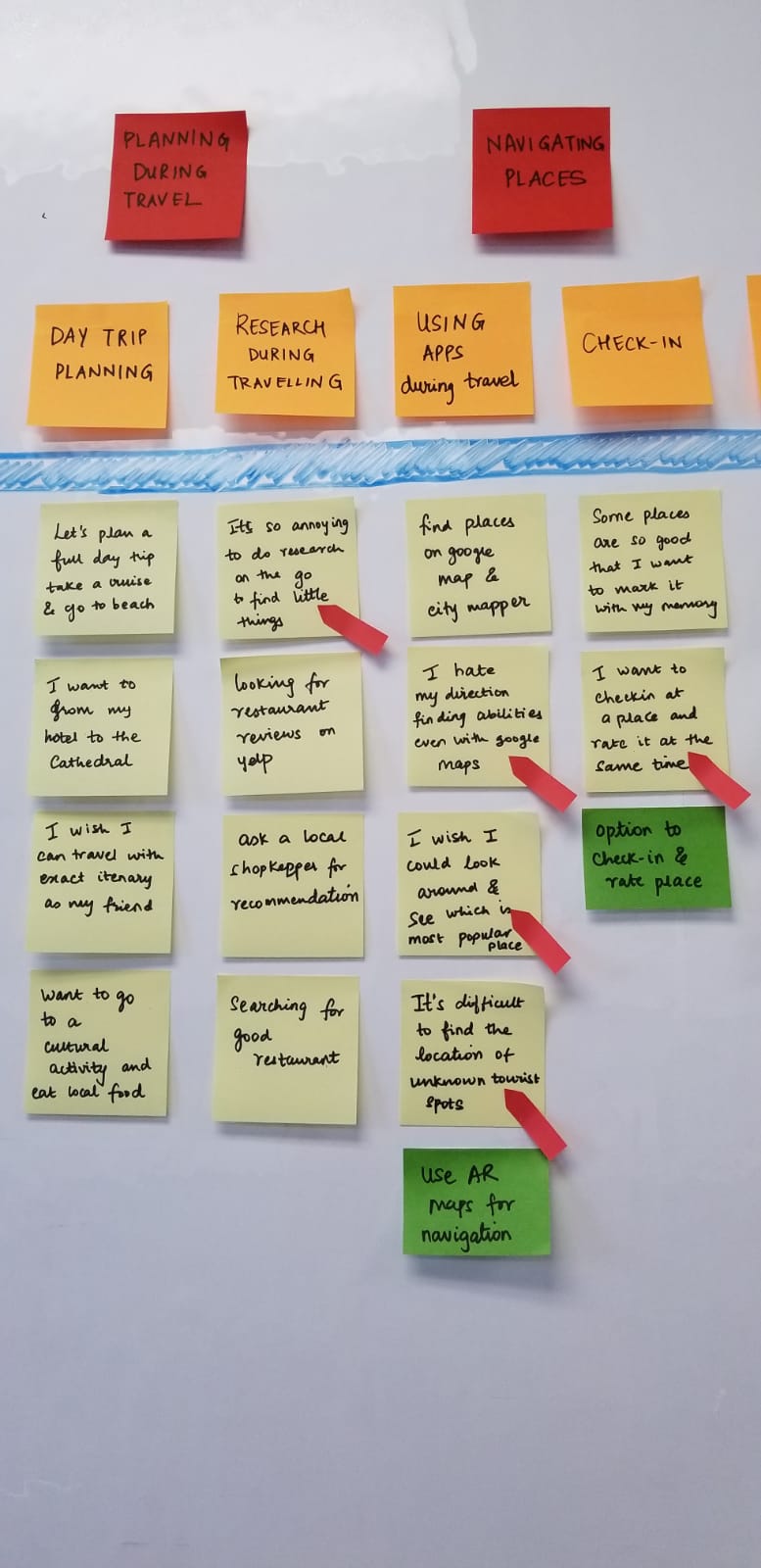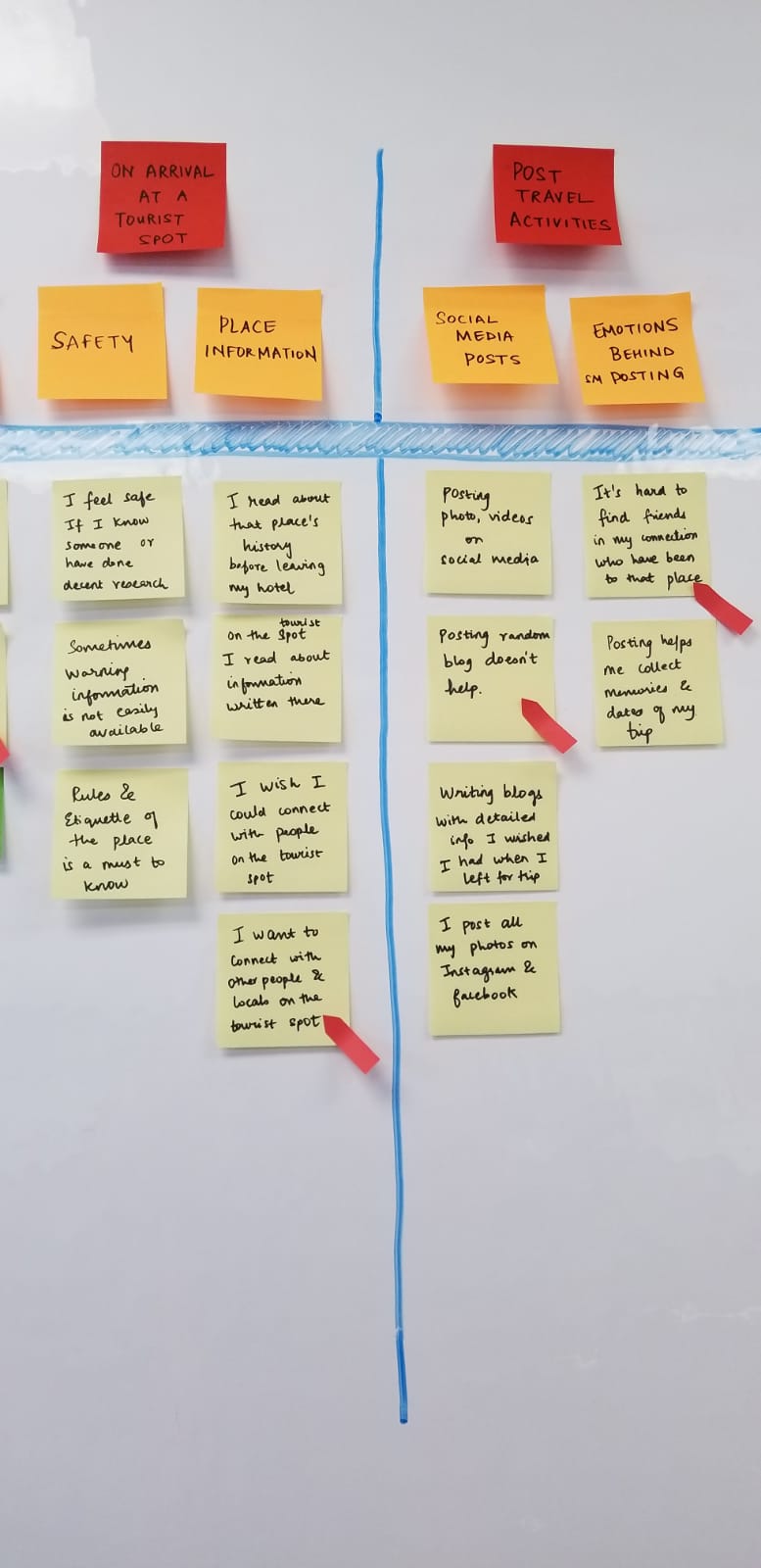 Experience mapping helped narrow down the problem space into specific goals. These goals have now set a direction in which I will investigate.
3.4. PERSONAS
I had gathered data from a variety of people. All these people have varied attribute. I created personas as persona creation was important to focus the app features on certain characteristics of the user base.
First I listed all the attributes that I collected during the research phase. I create 4 personas with those attributes. Then, I combined them into 2 personas as it would make the app feature creation process more focused.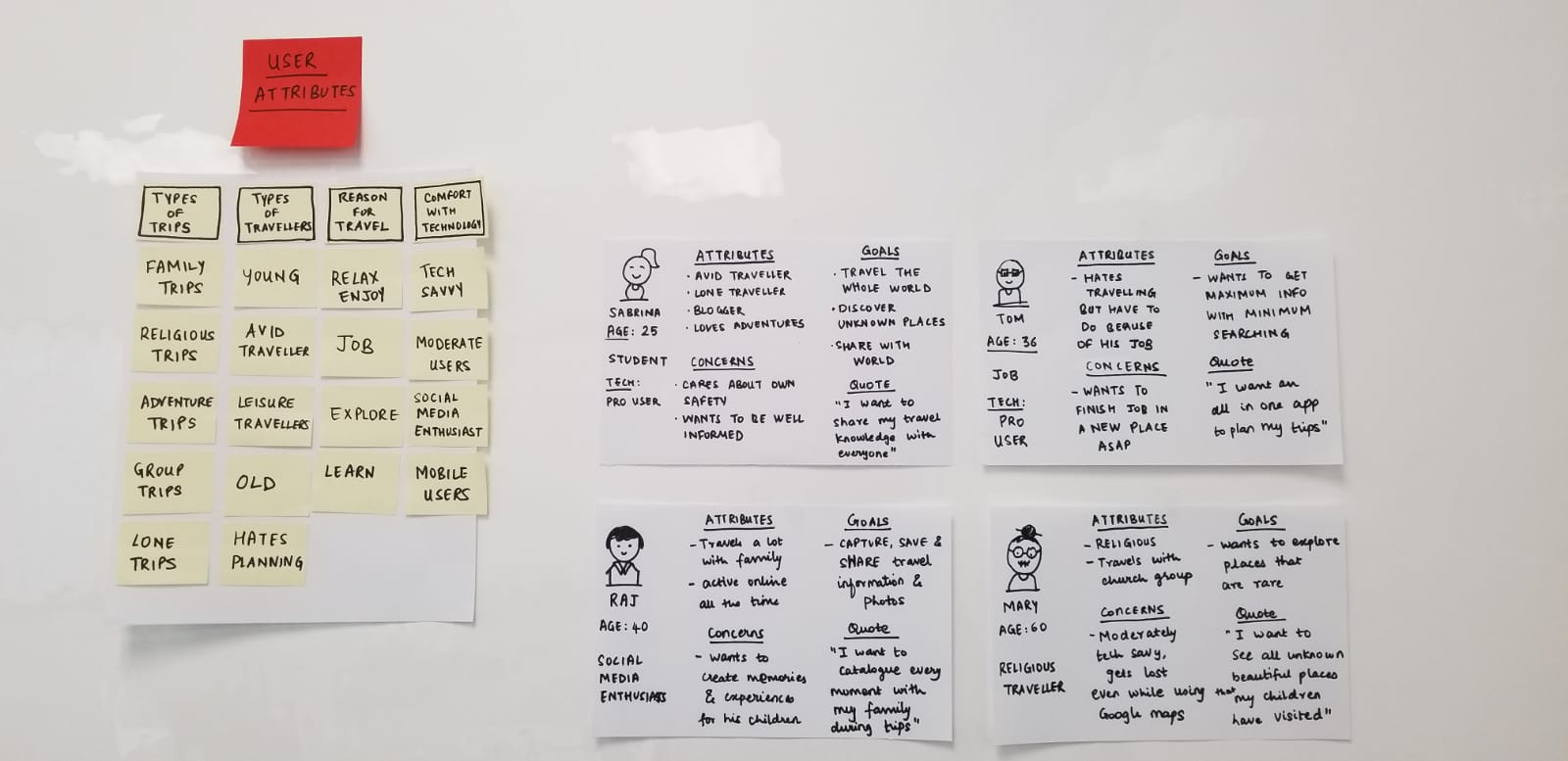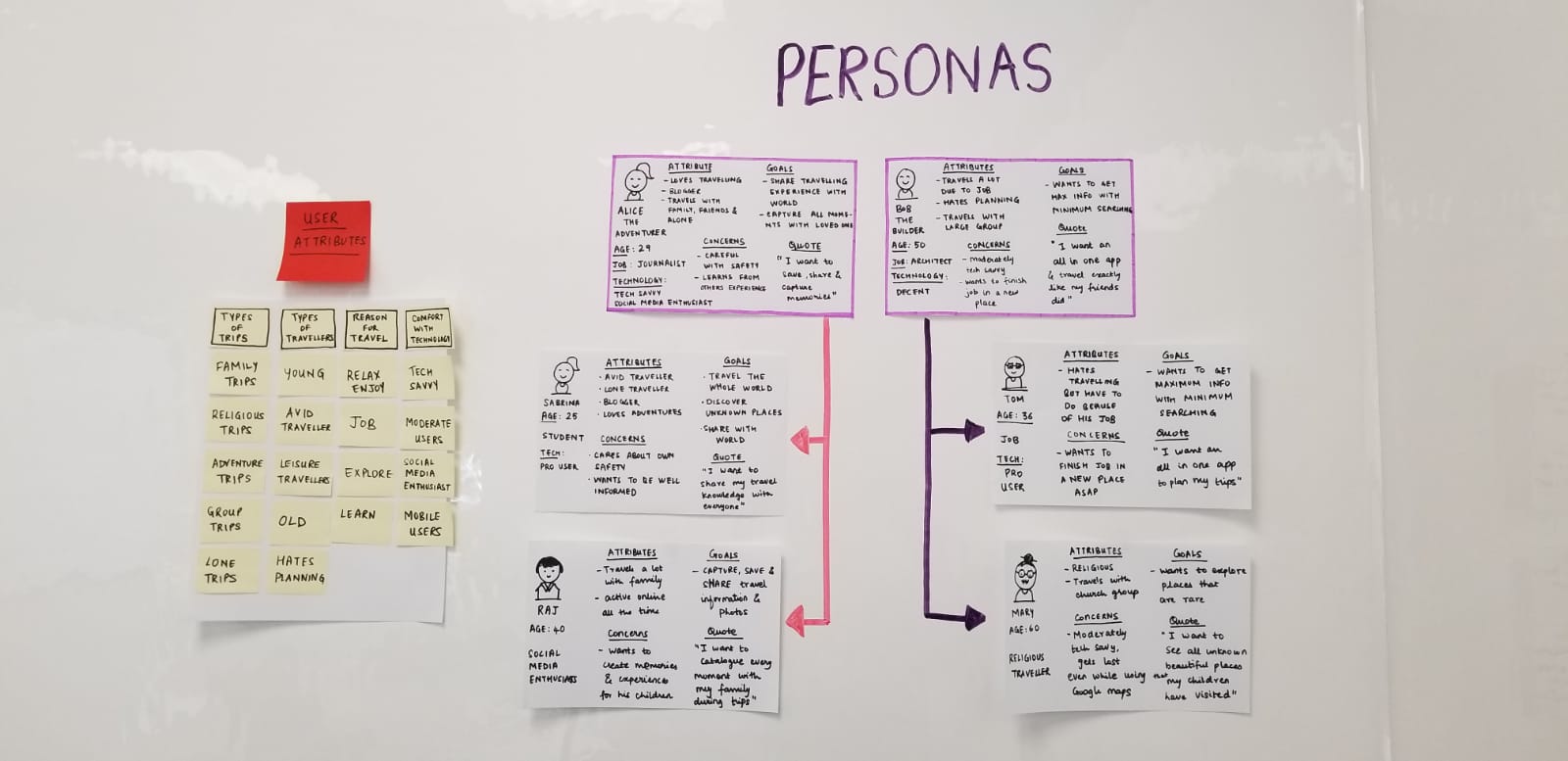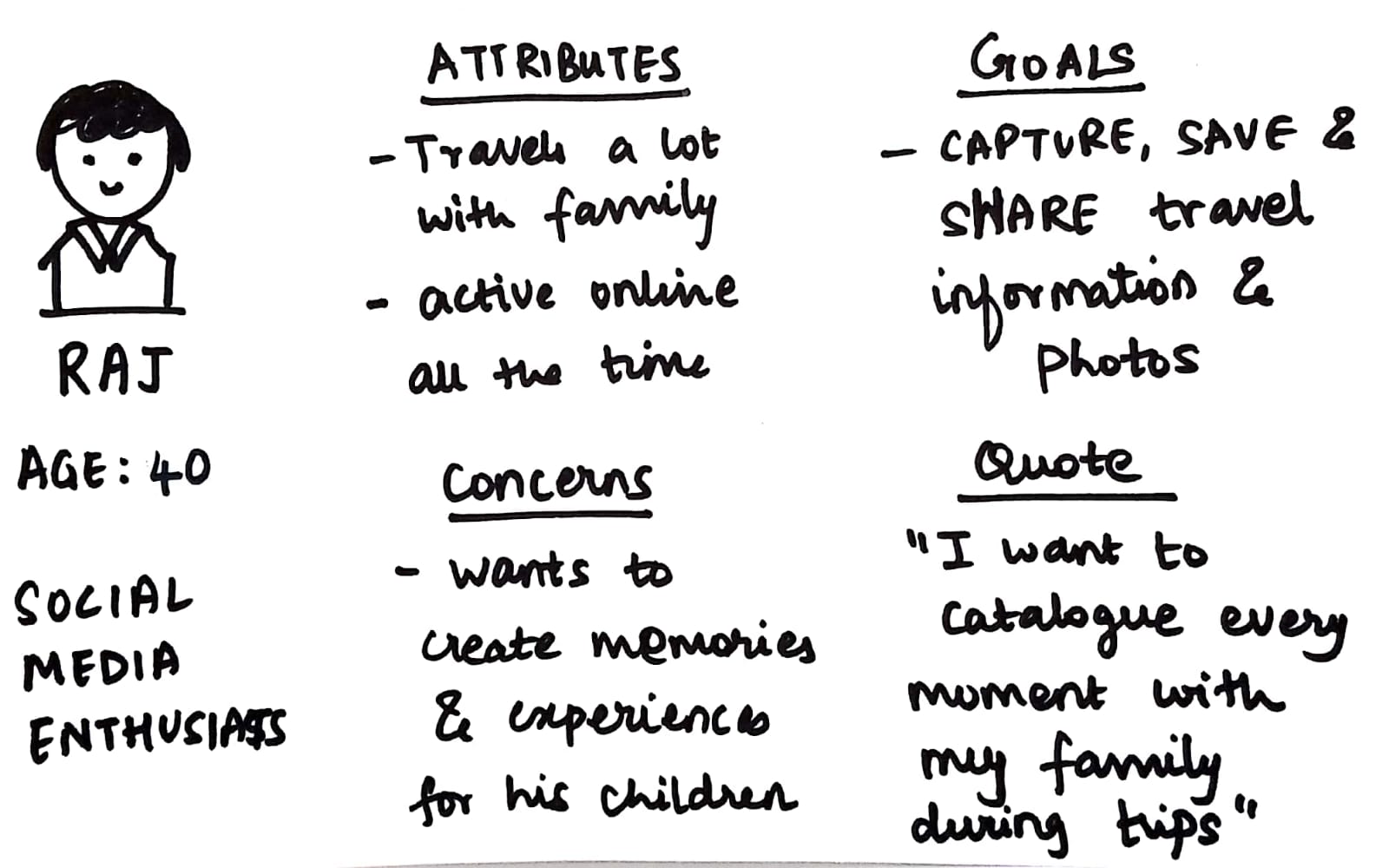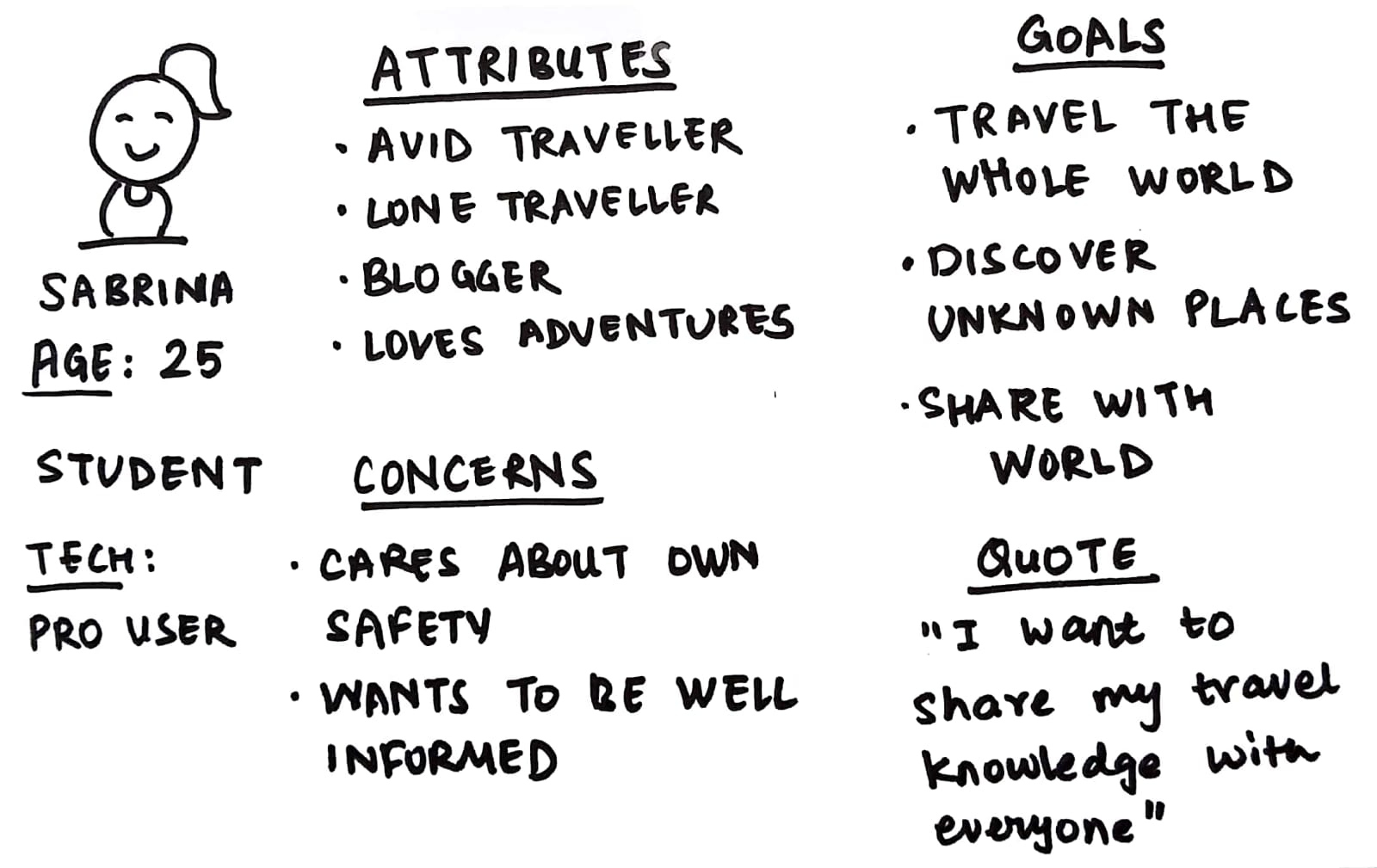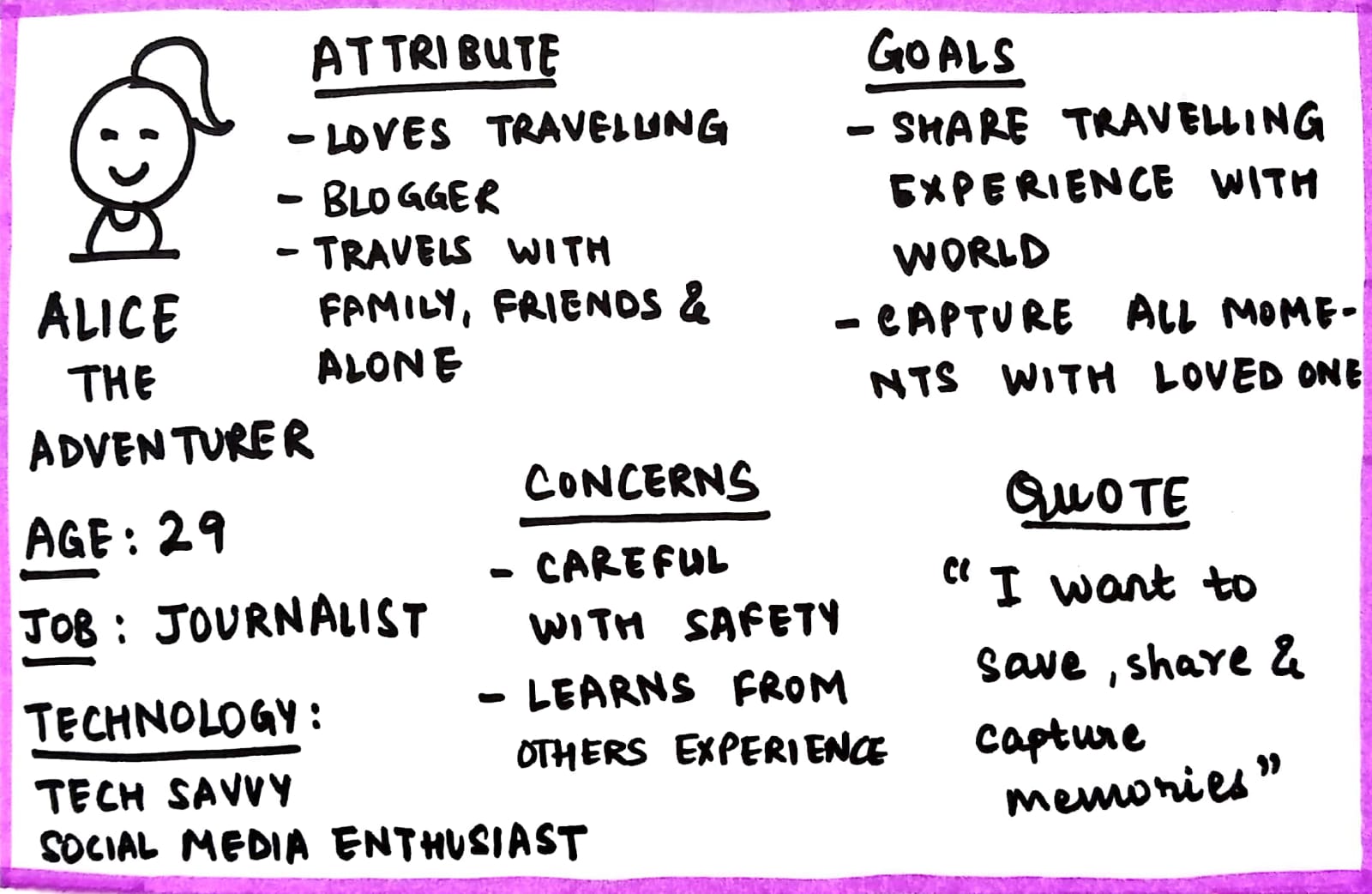 Until research phase, I witnessed huge amount of information but after experience mapping and persona creation, I had defined goals and defined characters, respectively, using which the feature design of the app seemed achievable.
4. DESIGN PHASE
4.1. IDEATION
The main goal of ideation was to come up with as many design solutions as possible and explore without thinking about development.
Ideation is ideally done in teams. As I worked on this project alone, I showed my ideas to my friends to get early feedback. Then based on their comments, I combined my designs using all the good concepts from all designs keeping in mind the goals and personas formed during research phase.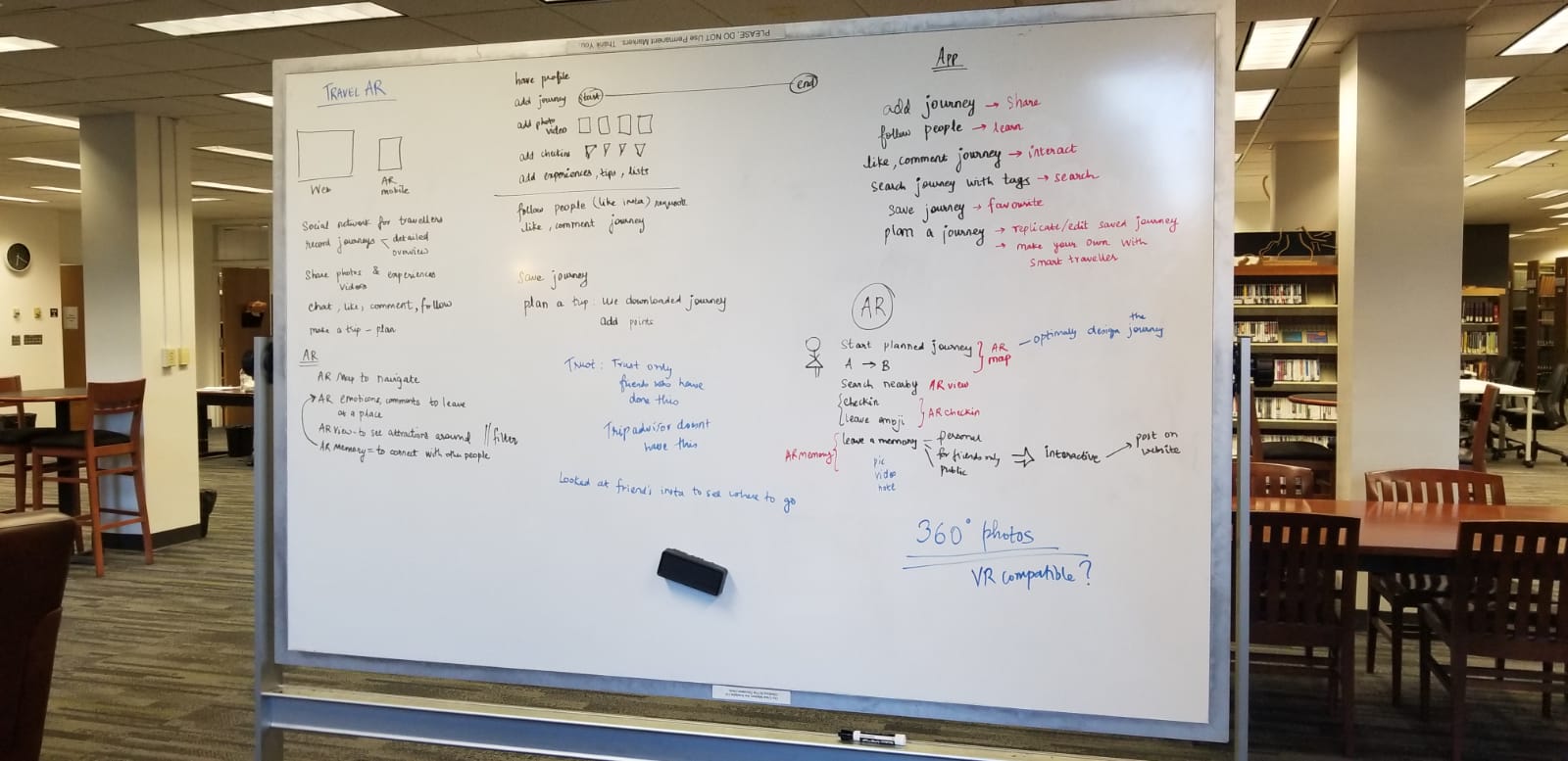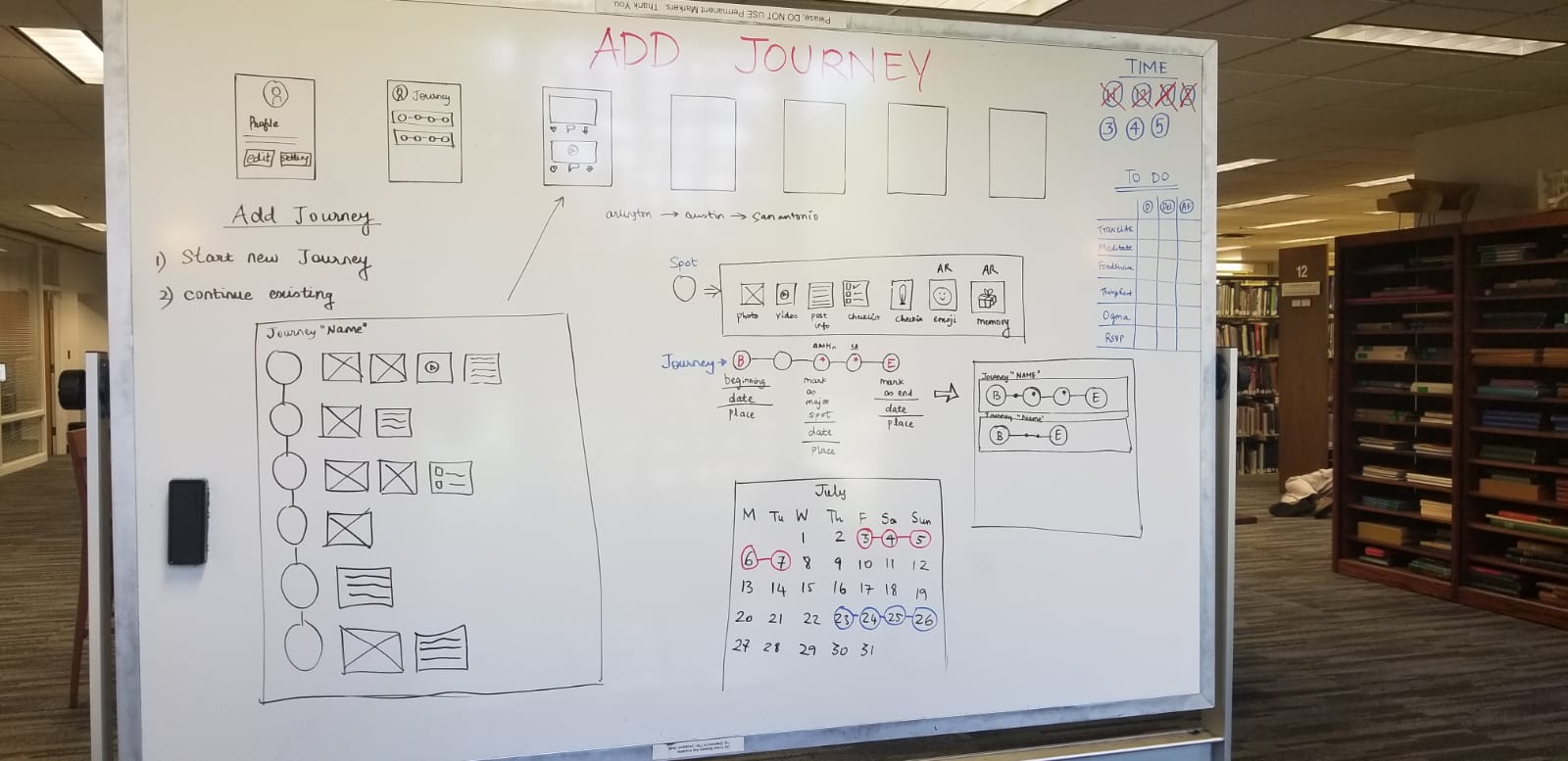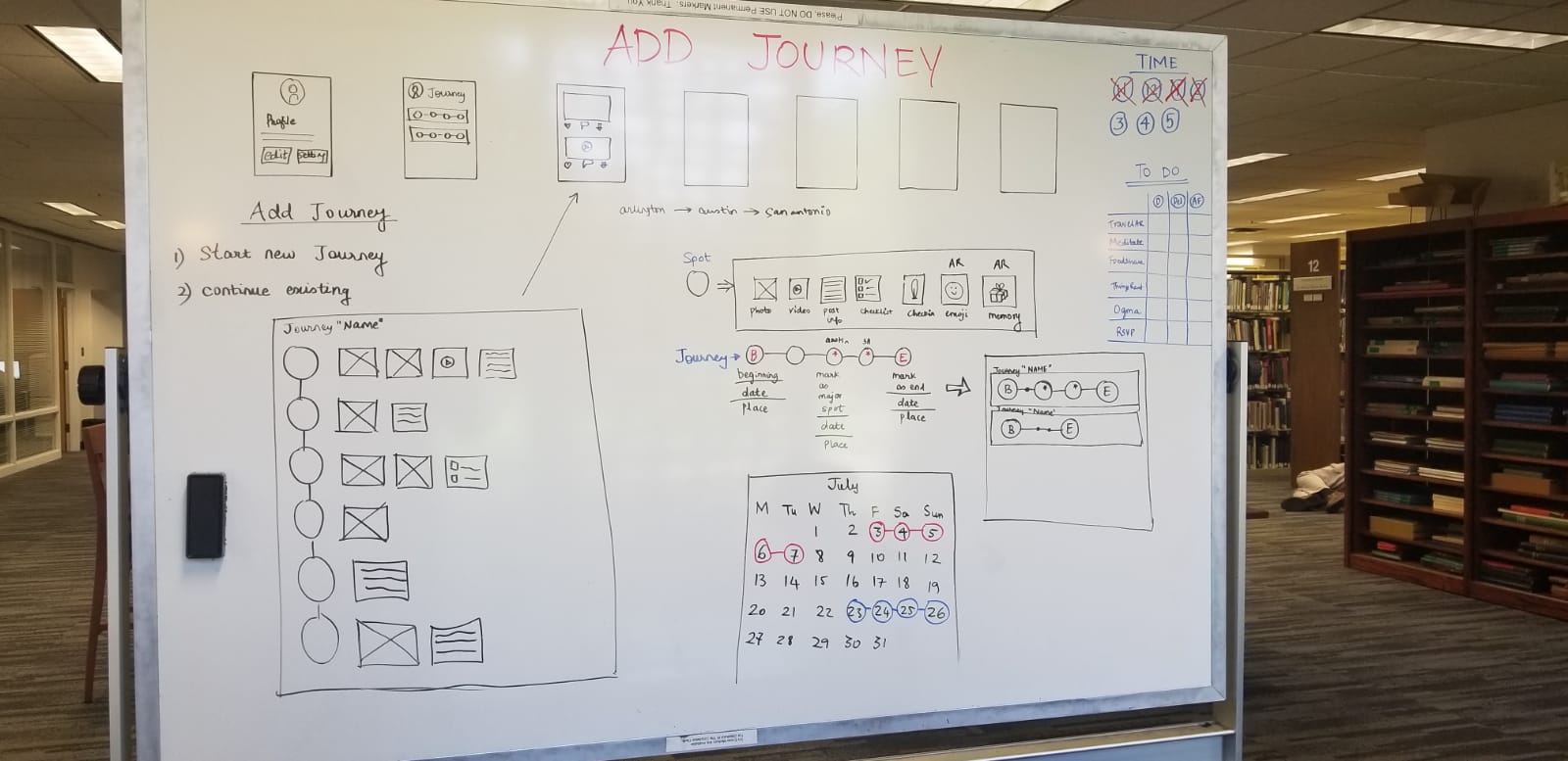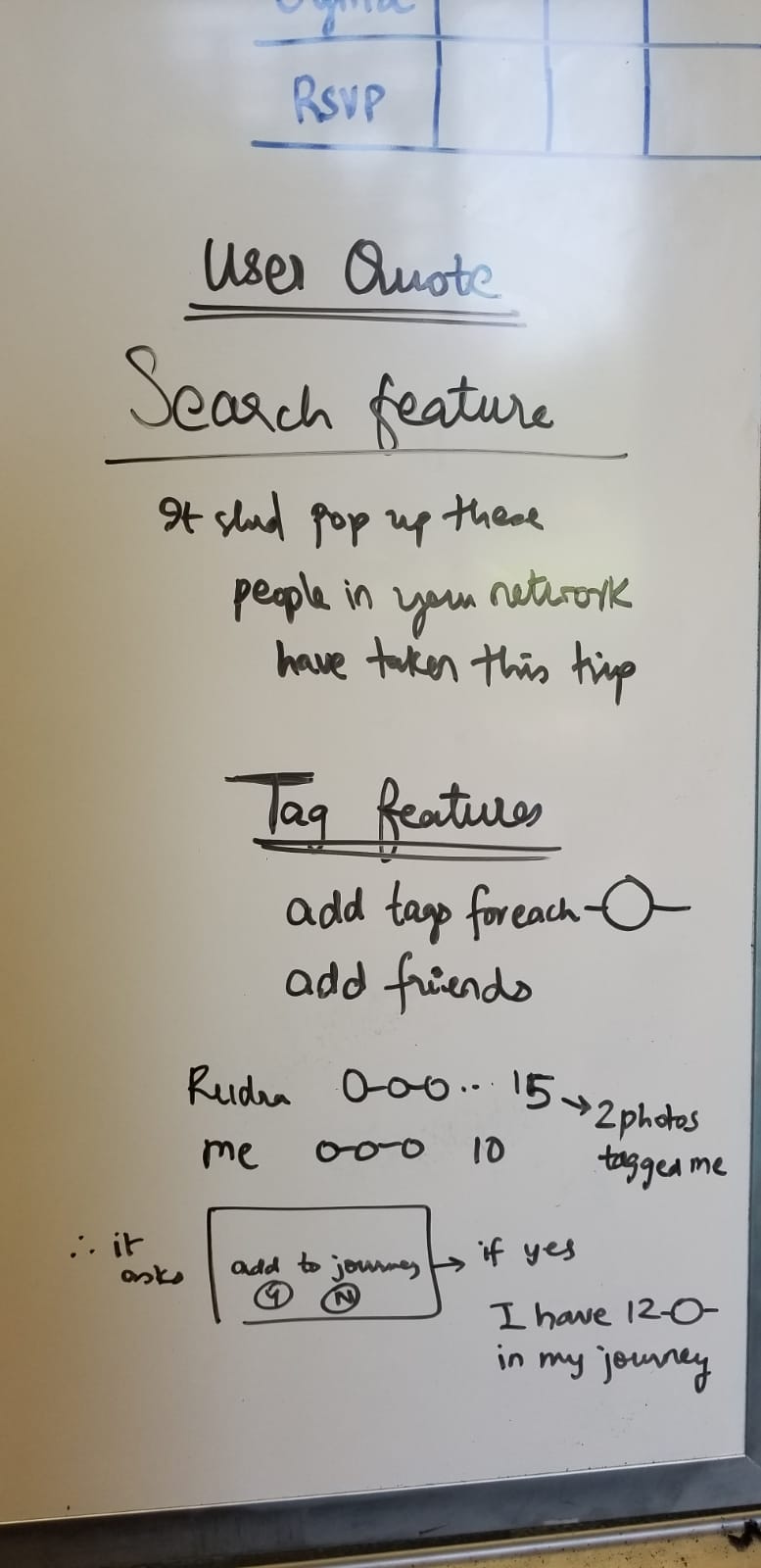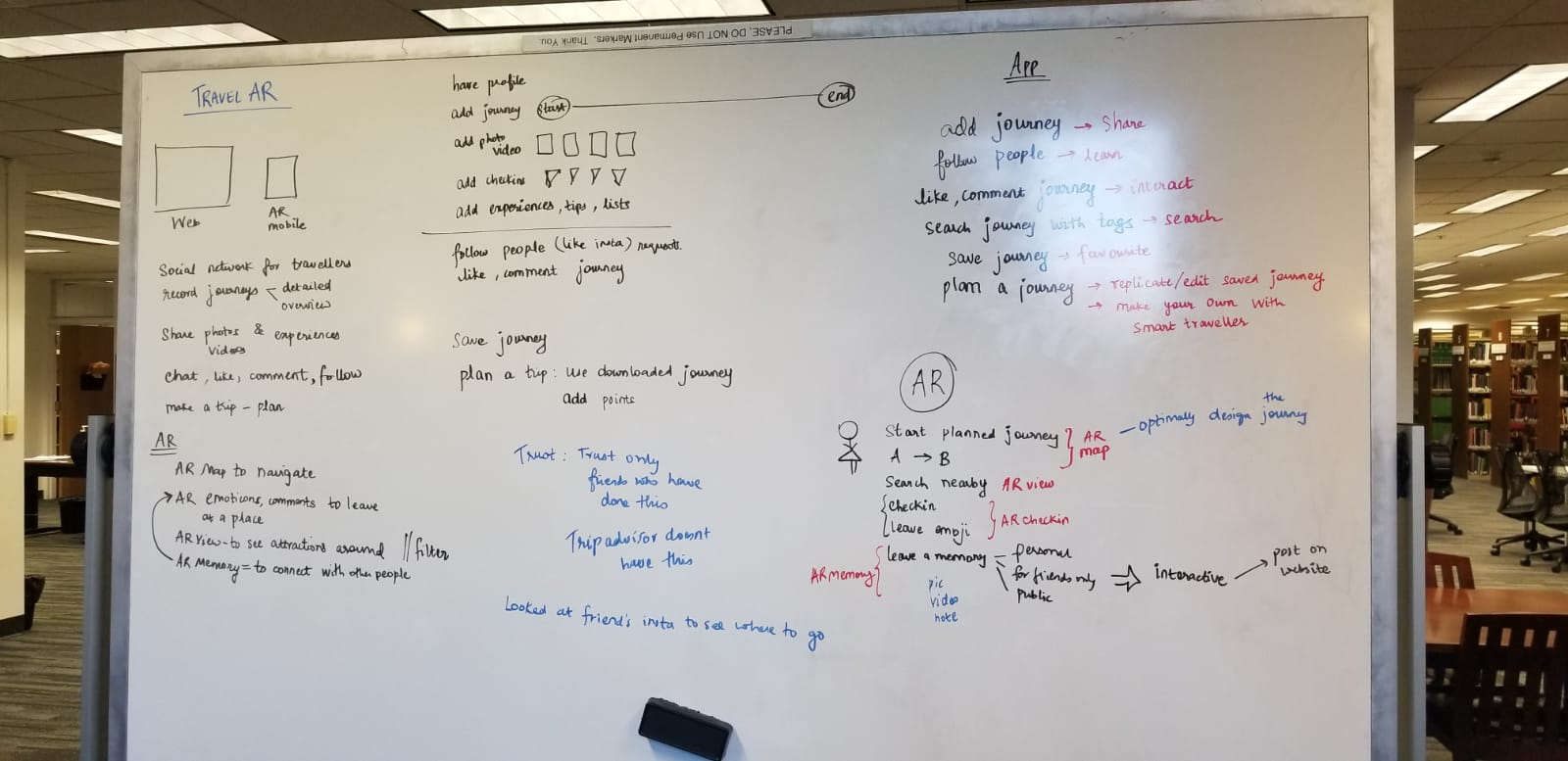 I was glad with decision to get early feedback and not designs solutions alone. Some comments that shaped good features in my designs were:
The user should have an option to view a place visited by all the people only in his network.
The user can follow a particular person or a particular trip of that person.
The user can check-in and rate a place on the same time
4.2. SCENARIOS
At this point, I had found out about
Who (users) - Persona
What (issues) - Experience map
How (solutions) - Ideation
I also had a list a features for the TravelAR. I used scenarios to concretize my ideas and determine the user's interaction flow with my design solution.
From the experience map, I chose a user activity to build a scenario. Experience map says current situation, in scenario I wrote down the ideal situation with my design idea.
After writing down all scenarios, I again used the wizard-of-oz technique and demonstrated each scenario to my friends. The feedback I received helped me refine my scenarios. I quickly made the corrections in my scenarios and repeated the process.
4.3. STORYBOARDING
The main goal was to create a story how the design idea works in reality, end to end interaction with feature, predict user behavior and focus on users needs and project goals.
In each storyboard, I tried to convey emotion and action of the user during a situation, showed user's progression through the interface, and demonstrate workflow.
When I showed my storyboards to my friends, it gave them a visual understanding of the scenarios which sparked couple interesting questions such as "What if there is no network in a remote area?", "How to trust an AR Memory?". At that time, I realized my design solution can expand to solve each user feedback. But as a designer, it was my decision to stick to the initial goal list and get it working first. Choosing which user feedback to work on first is a critical task, I understood this after storyboarding exercise.
5. PROTOTYPING & USABILITY TESTING
5.1. PAPER PROTOTYPING
I created paper prototypes to rapidly test the interaction and the flow of the app and fix any flow errors.
I translated scenario and storyboards into UI screens. I conducted paper prototype user testing with 4 participants. Each of them were given 3 different tasks to complete. They used the paper prototypes to complete those actions. I noted down whenever they got stuck or had any confusion and fixed the screen layout and flow instantly.
With this rapid prototyping, I received immediate feedback that helped me fix and finalize my app screens and flow.
5.3. WIREFRAMES
My intension was that before making the final digital prototype, I wanted to get a skeleton look of the whole app and user testing with wireframes would help me finalize the interaction design.
I created wireframes in Balsamiq. I then made a clickable prototype with these wireframes and selected 3 users to test the interactions. I gave them different tasks and asked them to complete it using the clickable prototype.
I quickly fixed minor interaction errors that were caught during the user testing. I was confident with the app flow and interaction.
LEARNING OUTCOME
TravelAR is a mobile application UX Design project aimed at making social experience associated with traveling more rich, informative, trustworthy and accessible.It is a social media platform that shares user's traveling experience with others as well as helps users during the travel with built in Augmented Reality (AR) services.
Even though I worked all alone in this project, I learned there no greater tool in UX design than USERS. Early feedback helped all my design decisions.
I realized not all user feedback should be converted into immediate app goals. This can be disastrous and heavily delay the process. As a designer, it is important to balance the user needs, business needs and time. Non-critical user feedback can be introduced at a later stage.
NEXT STEP
I'm currently working on high-fidelity prototypes. Stay tuned.