Food Share
Food Share is a food donating app with which one can donate and receive food easily.
I followed the Interaction Design course taught on Coursera and designed Food Share app as a part of their capstone project.
1. PROJECT DETAILS
Project Name: Food Share - A food donating app.

Project Type: Interaction Design - Mobile App

Project Theme: Charity

Team: 1 - This is a personal project. Everything is done by me.

Skills: Design Brief, Need-finding, Ideation, Mood-board, Paper Prototype, Storyboarding, In-Person Usability Testing, Wireframes, Low-Fidelity Prototyping (Week 8)

Project Inspiration: I followed the Interaction Design course taught on Coursera and designed Food Share app as a part of their capstone project.
2. DESIGN BRIEF
Is this project made from scratch?
Yes
The first step, before starting the design process, involved choosing a design brief. We were given three different design briefs to choose from: time, change or glance. Each brief had to do with a different concept and each had a different mission.
Time - Mission: Redesign the way we experience or interact with time.

Change - Mission: Design an interface that facilitates personal or social behavior change.

Glance - Mission. Find people and design a personal dashboard tailored to their needs.
I chose brief #2: Change. I decided to design an Android app to help users do charity and donate food. After choosing the brief and my mission, I embarked on a human-centered design journey.
3. NEEDFINDING
I started by picking an activity I wanted to observe and making an interview and observation plan. The goal was to observe the successes, breakdowns, and latent opportunities that occur when computers are used (or not) and see how technology could be used to support my chosen activity.
I decided to observe how people donate and receive food. I observed and interviewed three people. Two of the participants donated food and other items several times a week and another one wanted went to a charity house several times per week. I observed two of them at home, another one at the charity house near my university - Mission Arlington.
I noticed that the three participants used different tools to accomplish their goal. All of them used a combination of both analog and digital tools. It took them several steps to plan, schedule their activity, go down the charity center and finsih their goal. All these steps, and their breakdowns, presented design opportunities.
4. IDEATION
This phase consisted of brainstorming different user needs, coming up with a high level strategy of how my app was going to solve a deep user need, and creating an inspiration board.
Point of View (POV). This was my high level strategy. It had to clearly express the problem/opportunity that my app was going to solve. The problem had to be a deep user need (the underlying issue), rather than a surface need (what people say first).
My POV: "Establishing the new habit of being more physically active does not have to be difficult, frustrating, boring, or feel like a chore. Consistently engaging in the activity and making progress can be fun, exciting and joyful. It can be something people look forward to rather than avoid."
5. MOODBOARD
Inspiration Board. I created this board based on inspiration from other sources : existing applications, artifacts, products, services, or anything that was related to my POV. I found five inspirational designs: food donation drives, uber app that was one of my inspiration, e commerce apps, happiness in charity.
6. PERSONAS
I designed two personas based on the target audience of my app.
7. STORYBOARDS
Storyboards helped me understand the interaction design of the app, how it will be used in real life scenario.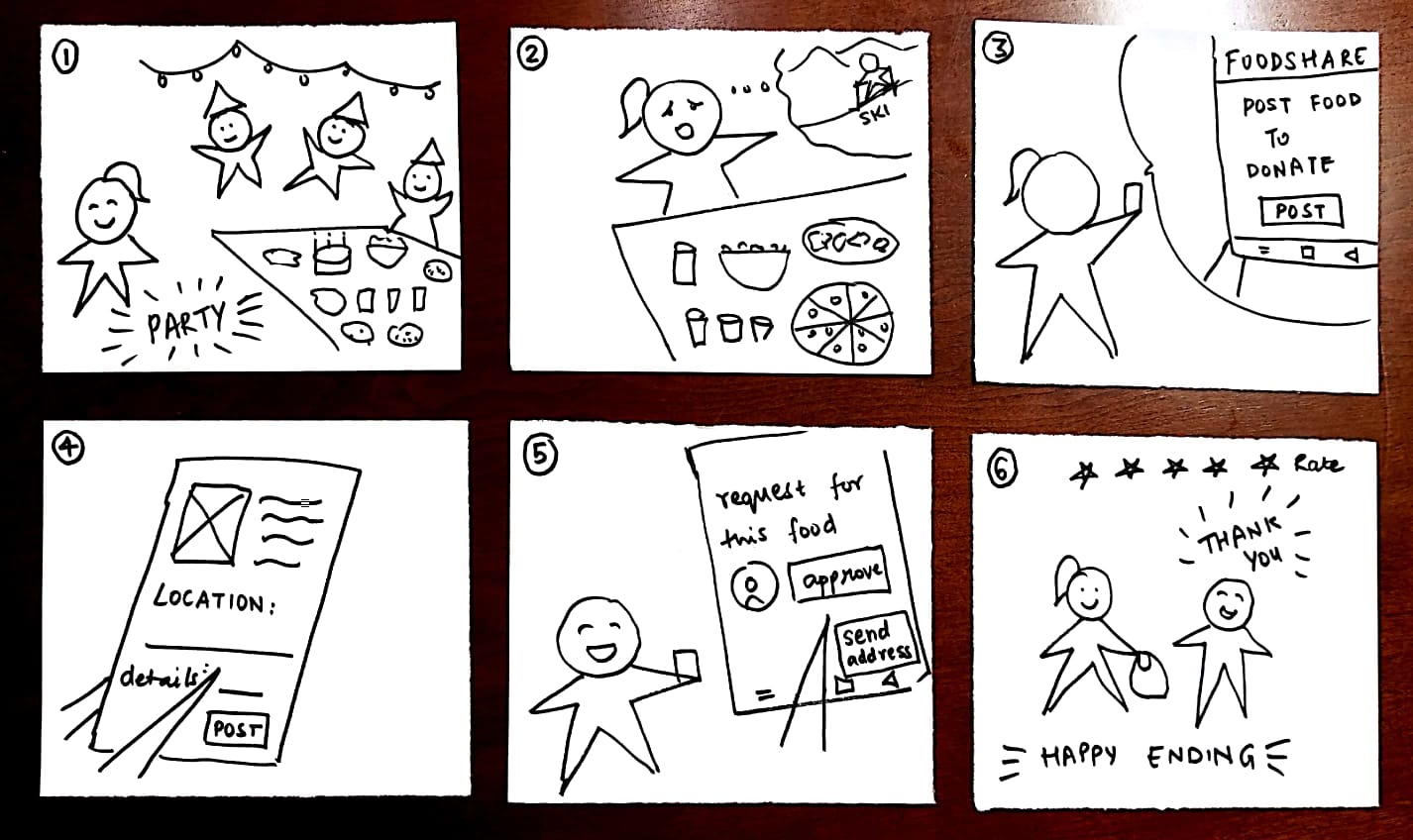 8. PAPER PROTOTYPE
I created paper prototypes and tested it with 3 participants. I gave them 2 goals each to accomplish using the paper prototypes. I noted down the interaction errors and fixed the flow.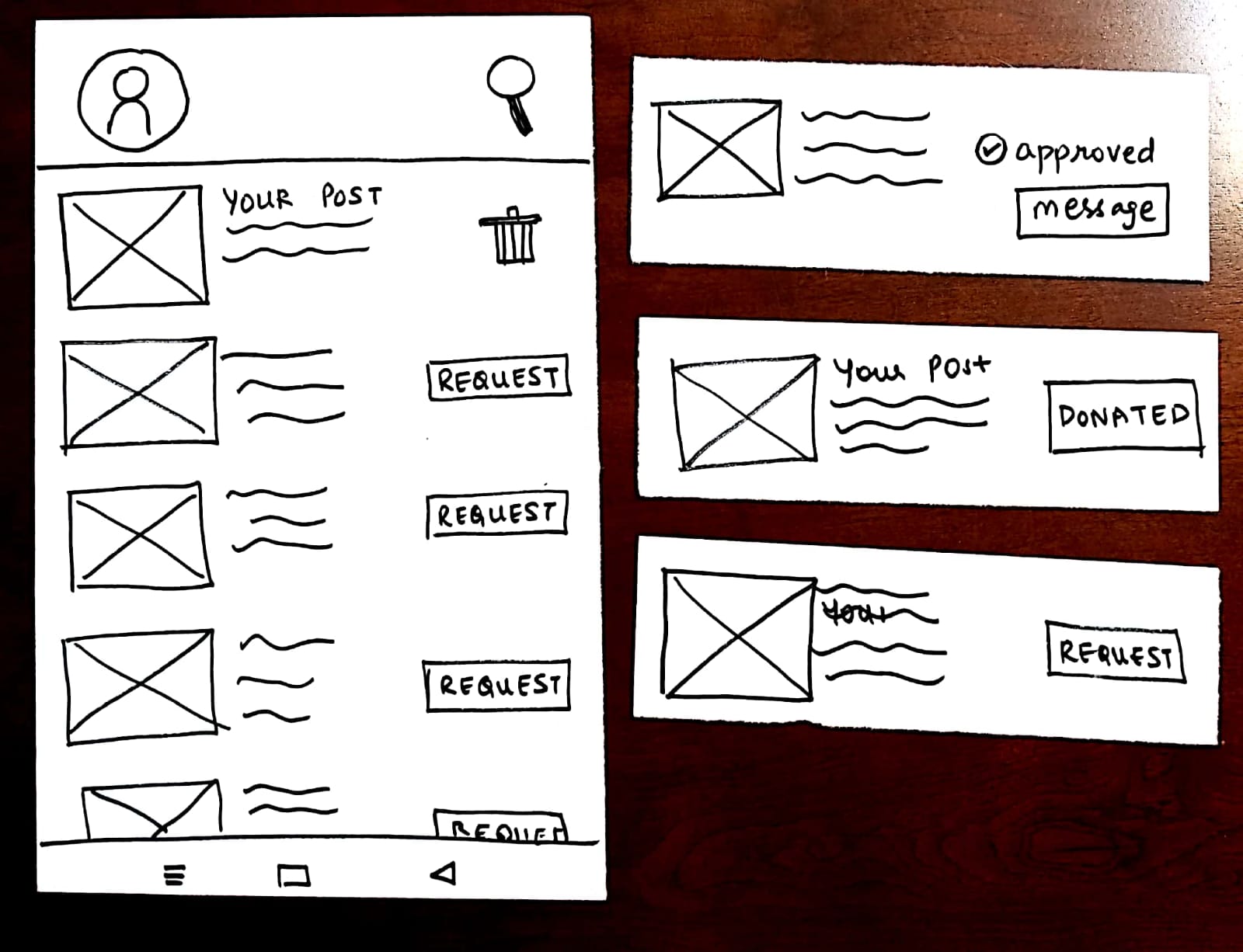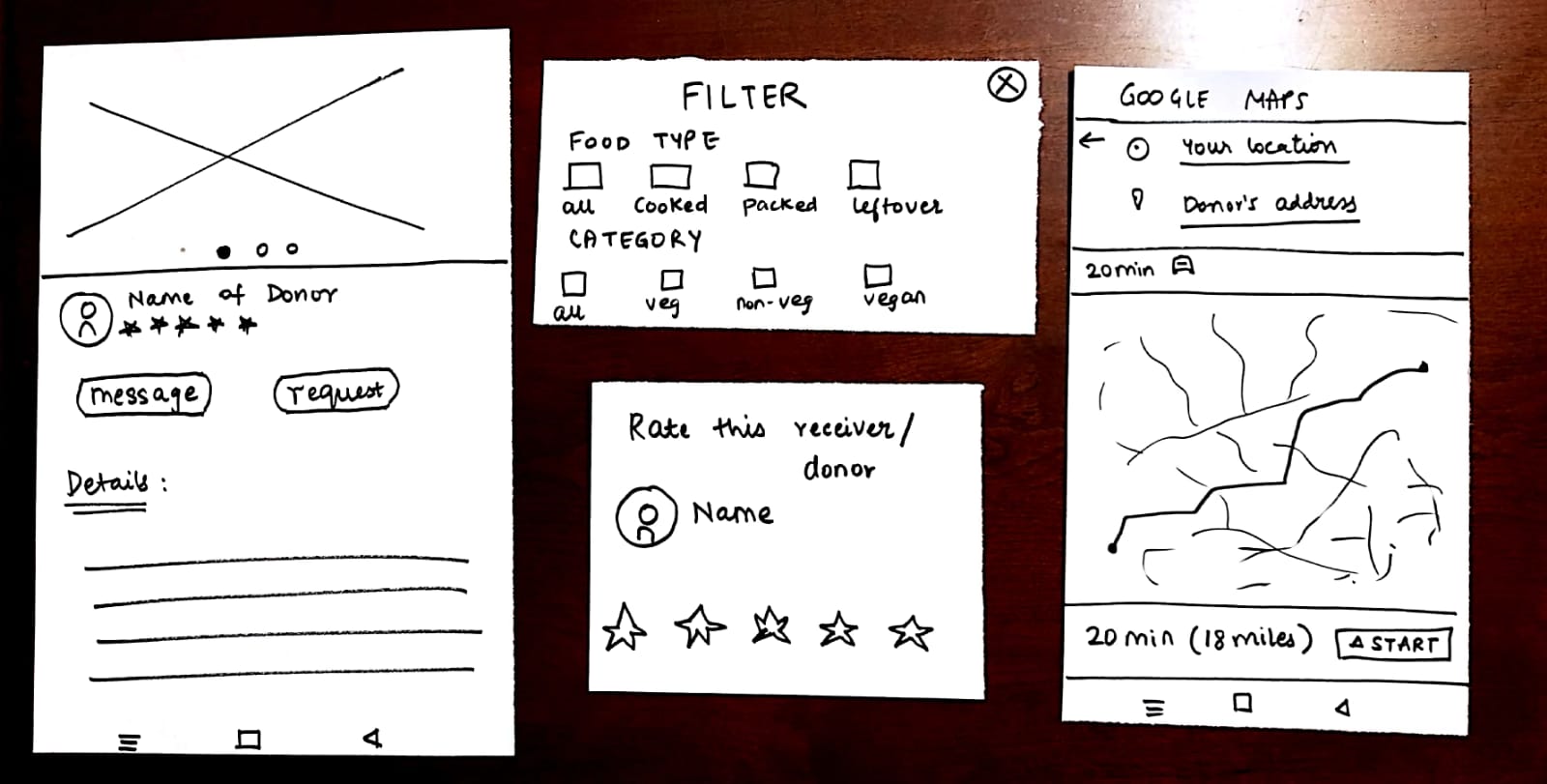 9. APP WORKFLOW
I drew an overview of workflow of the app. These are the app screens with their functionalities and an overview map of how screen is connected to each other.
10. WIREFRAMES
Based on the workflow that was created after correcting the flow of the app (that was tested using paper prototyping), I created these wireframes.
11. LOW FIDELITY PROTOTYPING - USABILITY TESTING
I used these wireframes for low fidelity prototyping. I used InVision to create the prototype and tested the interaction with 2 participants.
NEXT STEPS
I'm currently in process of creating high fidelity mockups.